BOTOX® May Seem Simple, But Be Careful Who You Trust
Published on July 28, 2009 by Dr. Rai (drrai.net)
As you drive around town, you may notice a variety of places offering BOTOX® injections at fairly low prices. One of the reasons for this is that any number of different medical practitioners can offer BOTOX® to patients at almost any cost they please.
While BOTOX® may seem like a very common, simple procedure, it is still a long-term cosmetic procedure that should be performed by a professional cosmetic surgeon, like Dr. Vasdev Rai in Dallas, Texas. If BOTOX® injections are performed incorrectly, the results can leave your face feeling or looking paralyzed for months.
When BOTOX® is injected below the facial skin, it paralyzes the targeted muscle, preventing it from contracting. This helps to smooth the skin over that muscle. BOTOX® injections can be performed by ophthalmologists and other specialists who are not as familiar with facial aesthetics as an experienced plastic surgeon.
When performed by the right cosmetic surgeon, BOTOX® can have very pleasing results. This is partly because a cosmetic surgeon will take your entire face into account and determine whether BOTOX® injections are the best option to meet your goals, or whether a facial filler, for example, might be better. If you are considering BOTOX®, do not go to the cheapest place you can find; examine a few different cosmetic surgery offices to determine who the best BOTOX® doctor is for you.
If you live in the Dallas or Fort Worth, Texas area and are considering BOTOX® injections, please contact Dr. Vasdev Rai today to schedule your initial consultation.
Dr. Vasdev Rai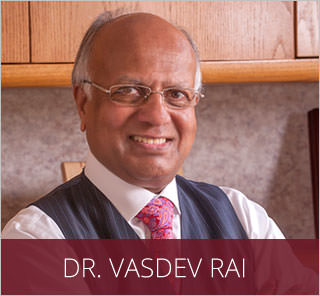 Dr. Vasdev Rai has performed more than 25,000 cosmetic surgeries over his more than 30 years in practice as a Dallas plastic surgeon. He is a board-certified plastic surgeon who was first certified by the American Board of Plastic Surgery in 1983. Learn More...
Dr. Surjit Rai
Dr. Surjit Rai was born and raised in Plano, Texas. Being the son of a plastic surgeon, Dr. Rai had the unique opportunity to see first-hand the impact a plastic surgeon can have. He knew at a young age that he would dedicate his life and academic career towards the goal of becoming a plastic surgeon. Learn More...