Beautifying the Back
Published on September 17, 2008 by Dr. Rai (drrai.net)
Although the economy is supposed to be slumping and bringing cosmetic surgeons down with it, there are a lot of news items about cosmetic surgery continuing to surge and prosper. One new procedure has been drawing many potential patients: another type of cosmetic "lift".
Cosmetic "lifts" have always been popular, as the force of gravity and aging continue to cause unattractive drooping. You can have a:
Face Lift,
Thigh Lift,
Arm Lift, or
Buttock Lift,
and now you can have the bra-line back lift. This is a procedure to smooth out the rolls of fat that develop on the back and make it hard to look good in swimsuits or close-fitting clothes. The incision is made beneath the bra line, so the resulting scar will be well-hidden.
Back rolls cannot be corrected with exercise. You can be a superbly fit aerobics instructor and still get back rolls and bulges. Lower back lifts have been performed for some years now, and the ASPS reports that in 2007 about 19,500 such procedures were performed. But this new procedure focuses on the mid-to-upper back.
The American Society of Plastic Surgeons (ASPS) issues a medical journal and in last October's issue there was a report of a small study done on the bra-line back lift. Researchers followed seven patients for 22 months who had this procedure done between 2001 and 2007. Recovery took two weeks and brought few complications. All seven patients were very pleased with their results. The study concluded that a bra-line back lift is safe and an excellent way to restore lost contours to the middle and upper back areas.
If you would like to schedule a personal consultation with Dr. Rai, please call or email our office.
Dr. Vasdev Rai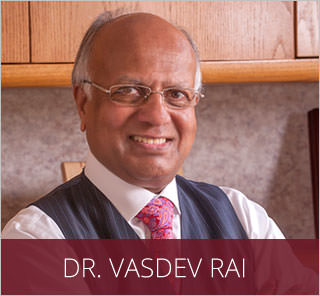 Dr. Vasdev Rai has performed more than 25,000 cosmetic surgeries over his more than 30 years in practice as a Dallas plastic surgeon. He is a board-certified plastic surgeon who was first certified by the American Board of Plastic Surgery in 1983. Learn More...
Dr. Surjit Rai
Dr. Surjit Rai was born and raised in Plano, Texas. Being the son of a plastic surgeon, Dr. Rai had the unique opportunity to see first-hand the impact a plastic surgeon can have. He knew at a young age that he would dedicate his life and academic career towards the goal of becoming a plastic surgeon. Learn More...