How Long Does Dallas Breast Augmentation Surgeon Dr. Rai Recommend I Wait Before Exercising?
Published on December 10, 2013 by Dr. Rai (drrai.net)
If you are accustomed to working out on a regular basis, you may be very anxious to get back into your routine as soon as possible following your breast augmentation surgery. The idea of being inactive, even for a short period of time can be very frustrating for some patients, but it is well worth taking the break to give your body time to heal. But, don't worry, you will not be limited to strict bed rest. In fact, we recommend that you start walking right away.
According to Dallas breast augmentation surgeon Dr. Rai, when planning your breast augmentation procedure, you should allow four to six weeks of recovery time before resuming full activity. However, you don't want to lie around all the time. We encourage our patients to get up and around as soon as they are able and to do some walking during the first week after surgery.
What you want to avoid are activities that increase blood pressure to your healing breasts, and of course, any strain on the muscles in that area. An increase in blood pressure can cause bleeding and pain. So, in addition to avoiding exercises performed for fitness' sake, no lifting and no activities that require you to bend over.
Two weeks after your surgery, you can resume some lower body exercise. Still, nothing that will affect your upper body, so no jogging. At four to six weeks, you can work yourself back into your normal activities, but listen to your body and take it slow.
If you are planning to undergo breast enlargement, in the Dallas area, please email us to schedule a private consultation with Dr. Vasdev Rai. Dallas breast augmentation surgeon Dr. Rai will give you specific and detailed post-operative instructions.
Dr. Vasdev Rai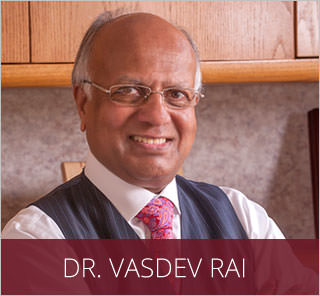 Dr. Vasdev Rai has performed more than 25,000 cosmetic surgeries over his more than 30 years in practice as a Dallas plastic surgeon. He is a board-certified plastic surgeon who was first certified by the American Board of Plastic Surgery in 1983. Learn More...
Dr. Surjit Rai
Dr. Surjit Rai was born and raised in Plano, Texas. Being the son of a plastic surgeon, Dr. Rai had the unique opportunity to see first-hand the impact a plastic surgeon can have. He knew at a young age that he would dedicate his life and academic career towards the goal of becoming a plastic surgeon. Learn More...