A New Type of Facelift
Published on June 2, 2010 by Dr. Rai (drrai.net)
In July this year, the sixth Annual Facial Cosmetic Surgery International Multi-Specialty Symposium will be held. According to news reports, there will be a presentation of a new type of facelift called the Simoni Lift™.
This is a mini-facelift that requires only local anesthetic and takes about an hour. It is offered by one Payman Simoni, M.D., who practices in Beverly Hills, California. It is reputed to improve turkey neck and laxity in the jowls, cheeks and facial skin and is said to have a short recovery time. It is the type of procedure often referred to as a "weekend facelift".
Dr. Simoni wanted this procedure to avoid use of general anesthesia for increased safety and so that you could go home right after it was finished. People do not generally have allergic reactions to local anesthetic, but it can happen with general anesthesia.
How is a Simoni Lift ™ Done?
First, your skin quality is evaluated, and the amount of fat and excess skin in the neck area. You will have better results if your skin still has some elasticity.
The anesthetic is mixed with epinephrine, which shrinks blood vessels to reduce bleeding. There are two incisions, much as in a traditional facelift, which run from within the hairline, in front of each ear, and back up behind each ear. Excess fat and skin are removed, muscles are tightened, the skin is redraped, and the incisions sutured.
Simoni Lift™ Recovery Period and Results
Swelling and bruising are reduced because only local anesthetic was used. With a bit of makeup, you can get around within a few days, although you should stay fairly quiet. After four to seven days, you can return to work.
Any discomfort can be well-controlled with pain medication and if you experience any strong pain, you should call your cosmetic surgeon. For perhaps a month, you may have decreased feeling in your face but it should return to normal.
As with all cosmetic surgery procedures, the Simoni Lift™ does not halt aging; it merely puts the clock back. We all age differently, depending on genetics and lifestyle, but it is estimated that you would not need any further facial rejuvenation for ten to fifteen years.
Meanwhile, at The Cosmetic Surgery Center, Dr. Rai offers endoscopic facelifts which are very effective in giving you a more youthful and relaxed appearance. There are also cosmetic surgeries to improve areas of the face, such as blepharoplasty to rejuvenate the eyes and cheek implants to create a firmer facial outline.
Dr. Rai is always happy to answer questions and explain how a procedure works. If you would like to schedule a free consultation, please call or email our Dallas, Texas office today.
Dr. Vasdev Rai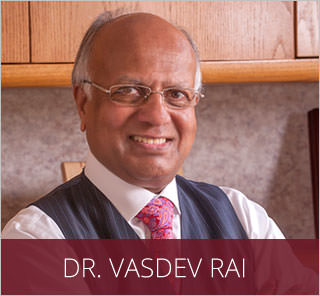 Dr. Vasdev Rai has performed more than 25,000 cosmetic surgeries over his more than 30 years in practice as a Dallas plastic surgeon. He is a board-certified plastic surgeon who was first certified by the American Board of Plastic Surgery in 1983. Learn More...
Dr. Surjit Rai
Dr. Surjit Rai was born and raised in Plano, Texas. Being the son of a plastic surgeon, Dr. Rai had the unique opportunity to see first-hand the impact a plastic surgeon can have. He knew at a young age that he would dedicate his life and academic career towards the goal of becoming a plastic surgeon. Learn More...