Christmas Shopping For a New Look
Published on October 26, 2009 by Dr. Rai (drrai.net)
Just as there have been "lunchtime" cosmetic surgery procedures for some time now – such as facial fillers or BOTOX® Cosmetic treatments – now the U.K. has come up with "Tweakenders".
A company has been set up that organizes groups of women who would like to combine their Christmas shopping with a little cosmetic improvement for themselves. Because the U.K. has government-run medical care, prices are high and waiting lists are long; and this makes it practical to travel elsewhere for your cosmetic surgery.
The company, called Let's Face It Together, was created by a prior cosmetic surgery patient who, eleven years ago, could not afford the U.K. prices and therefore traveled to South Africa for her plastic surgery.
She provides the service of bringing a cosmetic surgeon from London, about 115 miles away, to Norwich, where she is based, to consult with prospective traveling patients. That surgeon advises the women on options, realistic expectations, and prices, to help them decide which procedures would be best.
The current group being assembled is planning a trip to Antwerp in Belgium, where cosmetic surgery prices are about half what they are in the U.K. So even allowing for the cost of travel, the women still save significant money.
According to news reports, these trips are very friendly, with participants sharing plans and concerns and generally having a fun holiday. Said one previous participant who had breast augmentation done in Antwerp:
·
"It takes some of the fear out of it. I don't worry about the risks. I know so many people who have had work done. For me, it's just like going to the hairdresser."
And What About Follow-Up?
A cosmetic surgery procedure is not finished when you leave the surgeon's facility that day. Nor is it very safe to regard it as like getting a hair cut. The recovery period is crucial to safety and good results. It would not be wise to run around doing Christmas shopping during your recovery period from procedures like breast augmentation or a facelift – you would not feel like doing that, in any case. They are not "tweakend" procedures, although it is true that minor cosmetic treatments can be done in an hour or so during a work day.
Plastic surgeon Dr. Rai always sees his patients in a series of follow-up visits so he can check on your healing progress and catch any problems early before they become painful or health-threatening. Your safety is of the highest importance at The Cosmetic Surgical Center.
If you would like to schedule a personal consultation with Dr. Rai, please call or email our Dallas, Texas office today.
Dr. Vasdev Rai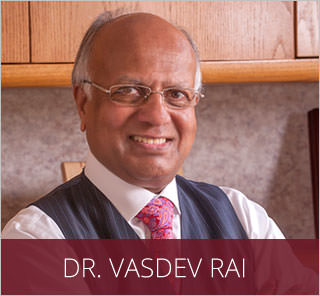 Dr. Vasdev Rai has performed more than 25,000 cosmetic surgeries over his more than 30 years in practice as a Dallas plastic surgeon. He is a board-certified plastic surgeon who was first certified by the American Board of Plastic Surgery in 1983. Learn More...
Dr. Surjit Rai
Dr. Surjit Rai was born and raised in Plano, Texas. Being the son of a plastic surgeon, Dr. Rai had the unique opportunity to see first-hand the impact a plastic surgeon can have. He knew at a young age that he would dedicate his life and academic career towards the goal of becoming a plastic surgeon. Learn More...