Considering Cosmetic Surgery Before Summer
Published on May 11, 2009 by Dr. Rai (drrai.net)
The summer time is great for going to the beach, swimming at the pool, and getting outside for any number of other activities. May is a perfect month to consider cosmetic surgery because you will be able to recuperate from the procedure in time to enjoy the sun and weather during the upcoming months.
Whether you want to add size and shape, gain a firmer looking body, or rid yourself of some unwanted wrinkles or lines, there is a fantastic cosmetic surgery solution for you. Some of the procedures we include:
BOTOX® Cosmetic Injections – During the non-invasive procedure, we will inject small amounts of BOTOX® into the middle skin layer around your eyes to relax the muscles causing crow's feet and frown lines.
Breast Implants – Many women come to our cosmetic surgery office disappointed with the appearance or size of their breasts. Whether you're suffering from asymmetrical breasts or breasts that are too small for your body, we can help you gain the breasts you want so you can look great this summer.
Liposuction – Liposuction has been a wonderful cosmetic surgery solution for many years. If you have areas of fat that have been resistant to your exercise efforts, liposuction can help you achieve a slimmer, firmer body.
For some procedures, you will need time to recover and heal fully and for others, like BOTOX® there is little or no recovery time. If you are interested in any type of cosmetic surgery procedure and you live in the Dallas or Fort Worth, Texas area, please schedule an initial cosmetic surgery consultation with Dr. Rai today.
Dr. Vasdev Rai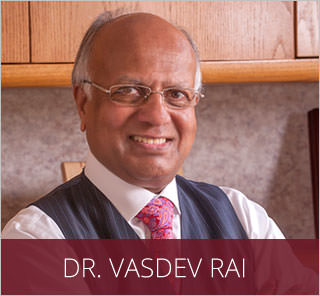 Dr. Vasdev Rai has performed more than 25,000 cosmetic surgeries over his more than 30 years in practice as a Dallas plastic surgeon. He is a board-certified plastic surgeon who was first certified by the American Board of Plastic Surgery in 1983. Learn More...
Dr. Surjit Rai
Dr. Surjit Rai was born and raised in Plano, Texas. Being the son of a plastic surgeon, Dr. Rai had the unique opportunity to see first-hand the impact a plastic surgeon can have. He knew at a young age that he would dedicate his life and academic career towards the goal of becoming a plastic surgeon. Learn More...