Cosmetic Surgery after Major Weight Loss
Published on May 12, 2009 by Dr. Rai (drrai.net)
Losing a large amount of weight is an amazing accomplishment for anyone. But after reaching that milestone, some people find themselves still unsatisfied with their body appearance. If you live in the Fort Worth or Dallas, Texas area and you've lost a lot of weight, Dr. Rai has a few cosmetic surgery options that can help you achieve the body appearance you want:
Liposuction – No matter how much exercise you do, there may be areas of fat on your body that are resistant to your efforts. Dr. Rai can use liposuction to remove some of the fat in these areas to give you a better body contour.
Breast Lift – Major weight loss can be especially difficult for women. After losing weight, you may notice that your breasts have lost the youthful, perky appearance they had in the past. A breast lift will remove excess skin and reshape your breasts so they look the way you want them to.
Arm Lift – Fat can accumulate around the upper arms, and after losing weight, you might have large amounts of excess skin. With an arm lift, the excess skin is removed, providing you with sleeker, firmer arms.
We want to make sure you are as happy as possible with your body, and cosmetic surgery can give you a great boost in self-confidence after you've lost your weight. Please schedule your initial cosmetic surgery consultation with Dr. Rai in Dallas, Texas to learn more about how we can help you gain the body you've always wanted.
Dr. Vasdev Rai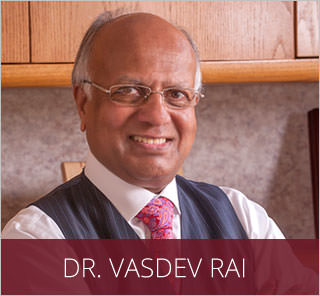 Dr. Vasdev Rai has performed more than 25,000 cosmetic surgeries over his more than 30 years in practice as a Dallas plastic surgeon. He is a board-certified plastic surgeon who was first certified by the American Board of Plastic Surgery in 1983. Learn More...
Dr. Surjit Rai
Dr. Surjit Rai was born and raised in Plano, Texas. Being the son of a plastic surgeon, Dr. Rai had the unique opportunity to see first-hand the impact a plastic surgeon can have. He knew at a young age that he would dedicate his life and academic career towards the goal of becoming a plastic surgeon. Learn More...