Response to Surgical Complications
Published on September 2, 2009 by Dr. Rai (drrai.net)
Cosmetic surgery has become popular worldwide, as the risky business of medical tourism can attest. You can read about one woman's story of her international cosmetic surgery in our blog of August 28 this year. That woman's procedures were probably quite safe, as she stayed in each country long enough to fully recover, whereas medical tourism does not necessarily provide for adequate recovery before the itinerary whisks you to the next country or back home.
Each country trains its own doctors and sets up its own laws to ensure medical safety. U.S. cosmetic surgeons are among the best-trained in the world and operate very safely.
A Chinese Story
In China, things are very different. Recently, a dissatisfied Chinese cosmetic surgery patient went back to the "shop" where she had had breast enlargement done three years previously. Her breasts were not the same size and she wanted compensation for that.
The shop had already refunded her entire surgery cost, but she wanted more so that she could have the problem corrected by another cosmetic surgeon who was apparently more expensive.
She entered the shop just as the staff were going off duty. In response to her plea, they locked her in the shop and left. She eventually called the police for help, but not until four hours later. News reports do not explain that delay. Perhaps she was expecting the staff to return and was determined to persuade them to pay her some more compensation. If so, she was certainly a patient woman.
The police had to break a window to get her out. News reports do not indicate whether this woman has any legal recourse.
Minimal Surgical Risks
All surgery brings some risk. A properly qualified cosmetic surgeon like Dr. Rai will always explain the possible risks of your procedure and U.S. law requires that every patient sign a Patient Consent Form indicating that they understand the risks. Dr. Rai will also give you printed post-operative instructions and will explain why you need to follow them for your safety and best recovery.
On our side, we will always do everything possible to correct a less-than-perfect surgical result. Dr. Rai can often do correctional surgeries, depending on what the procedure and problem are. If you had breast implant surgery and one breast were to end up larger than the other, we could correct that with new implants or by altering the saline content of one implant if you had saline filled implants. Better yet, we would avoid the problem by preparing carefully for your surgery and paying good attention throughout.
At Cosmetic Surgical Center you are in safe and experienced hands. Please call or email our cosmetic surgery office today for your personal consultation with Dr. Rai.
Dr. Vasdev Rai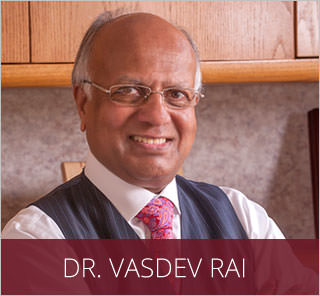 Dr. Vasdev Rai has performed more than 25,000 cosmetic surgeries over his more than 30 years in practice as a Dallas plastic surgeon. He is a board-certified plastic surgeon who was first certified by the American Board of Plastic Surgery in 1983. Learn More...
Dr. Surjit Rai
Dr. Surjit Rai was born and raised in Plano, Texas. Being the son of a plastic surgeon, Dr. Rai had the unique opportunity to see first-hand the impact a plastic surgeon can have. He knew at a young age that he would dedicate his life and academic career towards the goal of becoming a plastic surgeon. Learn More...