More Latisse Testing?
Published on April 20, 2009 by Dr. Rai (drrai.net)
Latisse is a new product for enhancing the eyelashes, which in December, 2008 obtained FDA-approval. It is manufactured by Allergan, a medical devices company which also makes silicone gel breast implants.
Latisse comes in a kit with sterile, disposable applicators. It is applied across the upper eyelid as you would apply eye liner, and absorbed by the eyelid skin. A treatment period is four months of daily application, after which your eyelashes will be significantly longer, thicker, and darker.
Some doctors are concerned about side effects. One side effect is redness and irritation on the eyelids, which typically disappears within days or perhaps weeks. The side effect which is concerning some doctors is potential change in eye color.
The FDA clinical trials did not test Latisse for use on the lower eyelids. Using it on the lower lid is off-label, meaning that it is legal but not specifically approved by the FDA. The trials focused only on upper eyelid use so as to minimize ocular exposure to the Latisse active ingredients. However, many patients would likely use it on the lower lids, and the consequences of this are unknown.
One of the eye doctors voicing his reservations about Latisse is Stuart R. Seiff, M.D. He is emeritus professor of ophthalmology at the University of California, San Francisco and also the current president of the American Society of Ophthalmic Plastic and Reconstructive Surgery (ASOPRS). Having participated in the Latisse clinical trials, he states that their focus was on the effectiveness of Latisse, rather than its safety.
He stated in Cosmetic Surgery Times that "… patients with light irises run the risk of increased iris pigmentation and eye-color change — they should be cautioned in this regard as part of informed consent." It is not known if this color change would be permanent or not.
When a new product receives the FDA's approval for marketing, that does not mean that all testing stops. There will be ongoing large trials of Latisse which will presumably focus on these concerns and more data will be obtained over the next year or two.
Meanwhile, if you feel that your eyes need cosmetic improvement, you might consider blepharoplasty to remove sagging and puffiness in the eyelids. BOTOX® Cosmetic is another option, as it can smooth out crows feet and forehead lines near the eyes.
Please schedule a personal consultation with cosmetic surgeon Dr. Rai if you would like more information on cosmetic procedures for the eyes.
Dr. Vasdev Rai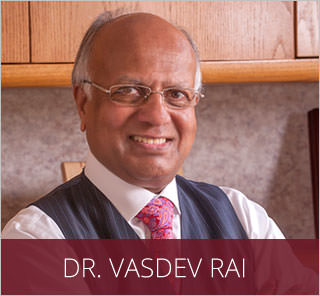 Dr. Vasdev Rai has performed more than 25,000 cosmetic surgeries over his more than 30 years in practice as a Dallas plastic surgeon. He is a board-certified plastic surgeon who was first certified by the American Board of Plastic Surgery in 1983. Learn More...
Dr. Surjit Rai
Dr. Surjit Rai was born and raised in Plano, Texas. Being the son of a plastic surgeon, Dr. Rai had the unique opportunity to see first-hand the impact a plastic surgeon can have. He knew at a young age that he would dedicate his life and academic career towards the goal of becoming a plastic surgeon. Learn More...