Abdominoplasty Can Erase Unsightly Scars
Published on July 6, 2017 by Dr. Rai (drrai.net)
An abdominoplasty, commonly known as tummy tuck, is a surgical procedure that is used to remove excess fat and skin and restore the underlying muscles to add more definition and improve the contours of the abdominal. While most people choose to undergo an abdominoplasty for fat removal and toning, most don't know that it can also work to remove scars.
Causes of Scars on the Abdomen
You may get a scar for a number of different reasons. Some scars are caused as a result of surgery, while others may be caused by situations beyond our control such as those caused by an accident. Scars may even be caused by surgery. While all doctors try to leave minimal surgical marks and perform procedures as aesthetically as possible, there are some cases, like the removal of cancer, where there isn't much of a choice.
Even if you are treated and feel healthy afterward, not only are these scars a constant reminder of the trauma you went through, they can also keep you from wearing certain kinds of clothes without drawing attention to them. This can make you feel unconfident and insecure and may even lead to severe depression. Fortunately, there's now a solution.
How Does Abdominoplasty Work on Scars?
To treat different types of scars, the procedure is the same. A low bikini line incision is made to lift and remove the scarred part of the skin and then normal skin from the upper abdomen is used to replace it. While this too leaves a post-surgical mark, this one is not easily visible, unlike the other, more prominent scar.
A patient who's recovered from ovarian cancer may not recover from the ugly scars it leaves behind. And most often than not, creams don't work on them. This procedure not only removes the unsightly scars, but allows the patient to flaunt a well-contoured abdomen area.
Sometimes, patients may prefer to go through this process at the time of the surgery for cancer or other ailments. A team of cosmetic surgeons may accompany the oncologists and perform an abdominoplasty. When it is done preemptively, the skin is lifted and kept out of harm's way through the bikini incision, after which the oncologists perform the operation.
After they are done, your cosmetic surgeon will then pull the skin back and stitch it up on the bikini line incision, thereby avoiding any visible scarring.
What are the Benefits
• Abdominoplasty not only removes the ugly scar, it also helps to tighten up the muscle and remove extra fat.
• Your improved aesthetics can help enhance your confidence.
• It can help tighten excess skin caused by extreme weight loss from cancer treatments.
It is important to remember that this is an invasive surgery that may require up to four hours to complete depending on the extent of your needs. While many patients recovering from trauma may not immediately think of this as a solution, a toned body free of unsightly scars can help make you feel more confident and happy after your surgery. It is sometimes best to think ahead and plan to have an abdominoplasty alongside the cancer removal surgery, if your care provider deems it ok.
Contact Our Office
If you would like to learn more about how an abdominoplasty can help erase unsightly scars, please contact our office. During a consultation with a well-respected surgeon such as Dr. Rai, you can learn all there is to know about the treatment and begin your journey to the aesthetically pleasing body you desire.
Dr. Vasdev Rai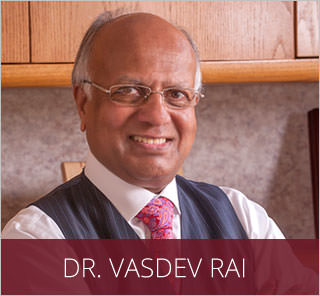 Dr. Vasdev Rai has performed more than 25,000 cosmetic surgeries over his more than 30 years in practice as a Dallas plastic surgeon. He is a board-certified plastic surgeon who was first certified by the American Board of Plastic Surgery in 1983. Learn More...
Dr. Surjit Rai
Dr. Surjit Rai was born and raised in Plano, Texas. Being the son of a plastic surgeon, Dr. Rai had the unique opportunity to see first-hand the impact a plastic surgeon can have. He knew at a young age that he would dedicate his life and academic career towards the goal of becoming a plastic surgeon. Learn More...