Breast Implants Boost Both Size And Volume
Published on November 2, 2017 by Dr. Rai (drrai.net)
Do you often look at yourself in the mirror and feel unsatisfied with the look of your breast? This is a common occurrence for a great deal of women and it can have harsh effects on one's self-esteem and confidence. If you're unhappy with the physical appearance of your breast, then you can benefit from breast implants.
The Benefits Of Getting Breast Implants
Breast Implants Can be Removed
The aspect of this surgery that most people don't seem to consider is the fact that implants can be just as easily removed as they were put in. If the look of the implants don't meet your expectations, or you don't like the look and feel, your doctor can take them out and make the necessary changes.
Breast Implants Can Increase the Size and Volume of Your Breast
Breast implants allow you to look even better with your clothes off! Being completely nude in front of your significant other can be a hurdle for many women. Breast implants allow you to have the perfect size, volume, and shape of your dreams, leaving you more secure and confident in your own body.
Breast Implants Allows You to Retain Your Alluring Contours After Weight Loss
Losing a large amount of weight may leave your breasts looking misshapen. Often times, women lose volume and definition in their breasts with dramatic weight loss. Although the weight loss is good for your body and overall health, it can alter the look of your breasts. Getting breast implants can fix that by enhancing the volume and size of your breasts.
Breast Implants Can Rejuvenate Your Pre-Pregnancy Body After Giving Birth
Having a baby can take a tremendous toll on your body, especially on the look of your breast. Breastfeeding can take all the plumpness out of your breasts, leaving them looking flat. You can easily fix this issue with breast implants.
Breast Implants Give You the Freedom to Choose Your Breast Size
If you have certain expectations and desires, a breast implant can help fulfill your needs.You have the power to choose whichever size you are comfortable with. Whether you simply want to go up one size or a few, you have complete control over the decision.
Breast Implants Can Improve How You Look in Your Clothes
If your breasts were previously too small to fill out your favorite top, then boosting the size and volume of your breasts with implants is the answer you've been looking for. After getting the implant, you will notice a significant difference in how your clothes fit. Your new and improved look will boost your self-esteem and leave you feeling more confident.
There isn't just one type of breast implant. In fact, there are quite a few. Here are the types of breast implants that are available for you to choose from:
1. Saline Breast Implants – filled with saline water that's sterile.
2. Structured Saline Breast Implants – contains inner structures, making the implant look and feel more natural.
3. Silicone Breast Implants – filled using silicone gel.
4. Gummy Bear Breast Implants – made with thicker silicone gel that maintains shape even if implant shell breaks.
5. Smooth Breast Implants – made for a soft feeling and more natural movement.
6. Round Breast Implants – makes the breasts seem fuller.
7. Textured Breast Implants – these are less likely to move around or become repositioned. It sticks to the implant by developing scar tissue.
The key to a successful breast implant surgery is getting an experienced plastic surgeon to do it, and also finding the type of breast implant that makes you feel the most comfortable.
Contact Our Office
If you're interested in undergoing the procedure, you will need to schedule a consultation with an experienced plastic surgeon. Contact the Cosmetic Surgery Center today to begin your journey to the aesthetically pleasing breast you desire.
Dr. Vasdev Rai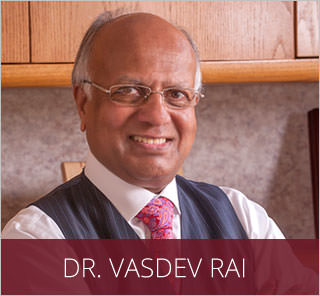 Dr. Vasdev Rai has performed more than 25,000 cosmetic surgeries over his more than 30 years in practice as a Dallas plastic surgeon. He is a board-certified plastic surgeon who was first certified by the American Board of Plastic Surgery in 1983. Learn More...
Dr. Surjit Rai
Dr. Surjit Rai was born and raised in Plano, Texas. Being the son of a plastic surgeon, Dr. Rai had the unique opportunity to see first-hand the impact a plastic surgeon can have. He knew at a young age that he would dedicate his life and academic career towards the goal of becoming a plastic surgeon. Learn More...