Labiaplasty – Feel More Comfortable with Your Body
Published on August 10, 2016 by Dr. Rai (drrai.net)
Labiaplasty, or labial reduction surgery, is a surgical procedure that involves altering the size and shape of the skin folds around the vulva known as the labia majora and the labia minora.
As per scientific standards, women aged 18 to 50 years generally have inner labia, or labia minora, at an average length of 61 mm. However, in some women, this figure might be higher, leading to elongated labial folds that either hang loosely or appear too long for normal standards.
Women with this condition might often experience some level of physical discomfort when wearing tight undergarments, and might also end up dissatisfied with the way their vagina looks.
What Is Labiaplasty?
Labiaplasty is a plastic surgery procedure performed on the female genitalia to reduce the size of the enlarged labia by removing the excess tissue present within the folds.
Many times, the aforementioned condition of enlarged labial folds is developed due to factors such as childbirth or aging. However, in some cases, elongated labia may be congenital, meaning from birth.
The major focus of labiaplasty is to create aesthetically appealing labia and eliminate any functional problems arising as a result of a larger-than-normal body part. The primary reasons for the heightened popularity of this procedure are an increased amount of articles on genital health on the internet and a growing acceptance of such cosmetic procedures in numerous cultures.
How Is the Labiaplasty Procedure Carried Out?
The labiaplasty procedure involves surgical intervention to incise the excess tissue with a scalpel. The remaining tissue is then sutured using tiny dissolvable stitches. The procedure results in recontoured and shortened labial folds.
The labiaplasty procedure can be performed by administering general anesthesia to make the patient unconscious for the entire duration of the surgery. This avoids any chance for pain or discomfort during the operation.
Labiaplasty can take anywhere between one and two hours. In some cases, the patient is discharged the same day and can return home.
The Recovery Process
After labiaplasty surgery, it will be extremely important to follow the specific precautions and guidelines prescribed by your plastic surgeon. This will ensure that the operated area heals rapidly and without any sort of complications.
Since the area to be operated on in labiaplasty is exposed to a lot of movement throughout one's normal life, it may take some time for the patient to fully recover. The patient is advised to follow a few precautionary measures to eliminate the chances of an imminent infection by keeping the area clean and dry.
Patients are required to wear loose undergarments and clothes for a while to prevent chafing or rubbing. In addition to this, the patients are advised to make use of sanitary napkins instead of tampons during menstruation for a few weeks after the surgery.
Schedule an Appointment for a Labiaplasty Consultation
If labiaplasty sounds like the procedure you've been looking for, it's vital to find a skilled plastic surgeon that you can trust. Dr. Rai is a skilled, experienced board-certified plastic surgeon with numerous satisfied patients. Contact us to set up a consultation at our office.
Dr. Vasdev Rai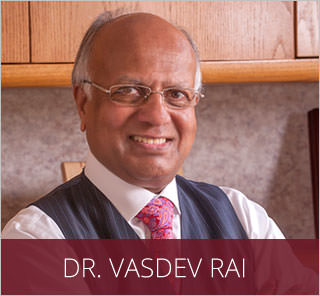 Dr. Vasdev Rai has performed more than 25,000 cosmetic surgeries over his more than 30 years in practice as a Dallas plastic surgeon. He is a board-certified plastic surgeon who was first certified by the American Board of Plastic Surgery in 1983. Learn More...
Dr. Surjit Rai
Dr. Surjit Rai was born and raised in Plano, Texas. Being the son of a plastic surgeon, Dr. Rai had the unique opportunity to see first-hand the impact a plastic surgeon can have. He knew at a young age that he would dedicate his life and academic career towards the goal of becoming a plastic surgeon. Learn More...