Solutions for Drooping Eyebrows
Published on August 26, 2015 by Dr. Rai (drrai.net)
Drooping eyebrows may pose both aesthetic and functional problems. Eyebrows that cover portions of the upper eyes can obscure vision, making daily tasks more difficult. They can also produce a perpetually grumpy appearance or make a person look older than they truly feel. If you struggle with these or other issues brought about by drooping eyebrows, board-certified Dallas plastic surgeon Dr. Vasdev Rai can help.
Forehead Lift
The most common treatment for drooping or sagging eyebrows is the forehead lift. This procedure allows Dr. Rai to raise eyebrows to a more pleasing and youthful position – helping restore vision and appearance at the same time. Depending on the other issues being addressed with your forehead lift, Dr. Rai may use one of several surgical techniques. Yours will be completely customized to meet your unique needs and specific desires.
When the aged appearance brought about by drooping eyebrows is accentuated by sagging eyelids or dark, puffy skin underneath the eyes, Dr. Rai may recommend combining forehead lift with blepharoplasty. This is not necessary in all situations, but the two procedures complement each other quite well and can, in many cases, restore a completely rested and rejuvenated look to the upper face. This and other options will be discussed in greater detail during your confidential one-on-one consultation at our Dallas plastic surgery center.
To schedule your forehead lift consultation with board-certified plastic surgeon Dr. Vasdev Rai, please contact the Cosmetic Surgical Center today. We welcome men and women living in Dallas, Ft. Worth, and all surrounding areas of Texas.
Dr. Vasdev Rai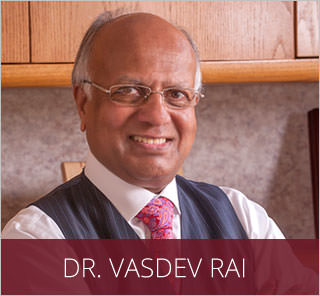 Dr. Vasdev Rai has performed more than 25,000 cosmetic surgeries over his more than 30 years in practice as a Dallas plastic surgeon. He is a board-certified plastic surgeon who was first certified by the American Board of Plastic Surgery in 1983. Learn More...
Dr. Surjit Rai
Dr. Surjit Rai was born and raised in Plano, Texas. Being the son of a plastic surgeon, Dr. Rai had the unique opportunity to see first-hand the impact a plastic surgeon can have. He knew at a young age that he would dedicate his life and academic career towards the goal of becoming a plastic surgeon. Learn More...