The Endoscopic Forehead Lift
Published on August 9, 2016 by Dr. Rai (drrai.net)
Endoscopic Forehead Lift
Over the last few years, the endoscopic forehead lift has proven to be an effective procedure to rejuvenate a person's upper face. It is a minimally invasive procedure that doesn't cause the undesirable effects that can potentially come along with traditional coronal procedures.
When it comes to addressing lines and wrinkles on the face, especially around the eyebrows, the endoscopic forehead lift is the perfect procedure.
What Is an Endoscopic Forehead Lift?
The eyebrows play a major role in a person's expressions. Unfortunately, as people age, the position of their eyebrows changes, getting lower and lower. They also develop wrinkles and lines around their eyes and the skin can become loose.
These issues are due to various reasons like the effects of gravity, fat deposition, one's genes, and the activity of the forehead and eyebrow muscles. To repair this, there are several types of forehead and eyebrow lift procedures, including the endoscopic forehead lift.
This popular forehead lift technique differs from the other techniques in that it involves the creation of five small incisions concealed under the hairline. The placement of these tiny incisions insures that any post-surgical marks will be well-camouflaged.
It is a very effective method for lifting the upper part of a person's face, including the eyebrows and even the hairline. The forehead is tightened and smoothened out and the eyebrow area is lifted, giving the patient a more youthful appearance.
This procedure addresses the shape of the eyebrows and can correct any asymmetries between them. It has a very short healing period, and patients can return to their regular routine very easily.
How Is the Endoscopic Forehead Lift Procedure Conducted?
The patient is administered local anesthesia with sedation before an endoscopic forehead lift is performed. Small incisions are made in the patient's scalp by an experienced plastic surgeon.
The surgeon will then insert an endoscope into one of these incisions. This tool features a camera and a light and is attached to a monitor. When it is inserted, it allows for a magnified visual of the treatment area.
Another instrument is used to lift the forehead skin and reposition the eyebrows. The muscle tissue responsible for the lines in the forehead is removed. If there is excess skin, it is also removed. The incisions are then closed with the help of fine suturing.
Recovery time varies for different patients. Bandages and sutures will be removed during a follow-up appointment. The patient can return to their normal routine in a very short period of time. Once the healing is complete, the patient will look more youthful and will have a completely natural look.
Who Is an Ideal Candidate for This Procedure?
Most people who choose to undergo an endoscopic forehead lift procedure are between 40 and 50 years of age. This is a procedure ideal for people who have lines between and around their eyebrows and forehead.
Arrange a Consultation
People considering a forehead lift should learn more about the procedure and what it can offer. It is recommended that they have a thorough discussion with their plastic surgeon before they decide on undergoing an endoscopic forehead lift.
Dr. Vasdev and Dr. Surjit Rai are experienced plastic surgeons, and your ideal choice for forehead lift surgery. Contact us today to schedule your consultation!
Dr. Vasdev Rai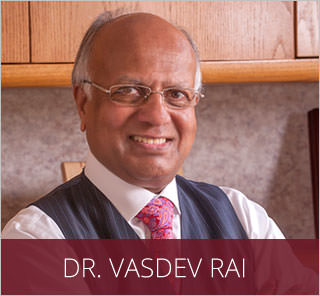 Dr. Vasdev Rai has performed more than 25,000 cosmetic surgeries over his more than 30 years in practice as a Dallas plastic surgeon. He is a board-certified plastic surgeon who was first certified by the American Board of Plastic Surgery in 1983. Learn More...
Dr. Surjit Rai
Dr. Surjit Rai was born and raised in Plano, Texas. Being the son of a plastic surgeon, Dr. Rai had the unique opportunity to see first-hand the impact a plastic surgeon can have. He knew at a young age that he would dedicate his life and academic career towards the goal of becoming a plastic surgeon. Learn More...