Will I Start Accumulating More Fat in Other Areas of My Body After Liposuction
Published on May 5, 2014 by Dr. Rai (drrai.net)
It is possible that you will start accumulating more fat in other areas of your body after liposuction, but only if you gain weight. It is not something that just happens automatically, as some believe. Liposuction reduces fat cells, the cells in which fat is stored, and those cells do not grow back unless you experience massive weight gain. With minor weight gain you should still maintain your improved body proportions, but for best results you must maintain the healthy weight you achieved before undergoing liposuction.
Why You Must Maintain a Healthy Lifestyle after Liposuction
Weight gain occurs when you take in more calories than you burn. These calories are converted into fat, and stored in fat cells for future use. After liposuction there are fewer fat cells in the treated areas, so less fat can be stored in those areas. The remaining excess fat overflows to areas where there are more fat cells to store the additional fat.
Liposuction is not meant to be a weight loss tool, but a procedure to remove stubborn pockets of fat in patients who have reached or are near their target weight. In order to continue enjoying the full benefits of liposuction, you must maintain your weight by keeping up a healthy lifestyle including healthy eating habits and exercise.
To learn more about liposuction, and find out if it is right for you, please contact the Cosmetic Surgical Center to schedule a comprehensive consultation with Dr. Vasdev Rai. Dr. Rai provides cosmetic surgery procedures to patients living in Dallas, Fort Worth, and surrounding areas of Texas.
Dr. Vasdev Rai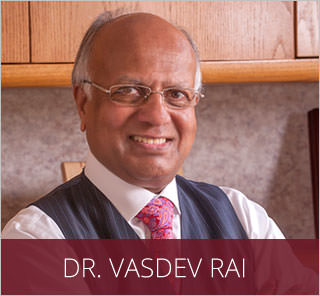 Dr. Vasdev Rai has performed more than 25,000 cosmetic surgeries over his more than 30 years in practice as a Dallas plastic surgeon. He is a board-certified plastic surgeon who was first certified by the American Board of Plastic Surgery in 1983. Learn More...
Dr. Surjit Rai
Dr. Surjit Rai was born and raised in Plano, Texas. Being the son of a plastic surgeon, Dr. Rai had the unique opportunity to see first-hand the impact a plastic surgeon can have. He knew at a young age that he would dedicate his life and academic career towards the goal of becoming a plastic surgeon. Learn More...