Body Areas that show Aging
Published on May 30, 2013 by Dr. Rai (drrai.net)
The truth is, just about any area of our physiques can undergo changes as we age. But some of the major problem areas are:
Your face: Lines around your eyes, mouth, forehead and nose can be some of the very earliest signs of aging.
Your neck and jaw line: Over time, your neck can lose elasticity and begin to droop, causing deep folds and bands across the neck. The angle between your chin and neck becomes less defined, and a turkey neck can form.
Your arms: Skin on your upper arms can sag and create "bat wings."
Your breasts: Like skin elsewhere, breast skin loses elasticity and becomes droopy. Your breasts may descend and have an elongated appearance.
Exercise, a healthy diet, and keeping your skin moisturized can mitigate some of the effects of aging, but plastic surgery or non-surgical facial rejuvenation is often required to make a dramatic difference.
Here are some of the most common procedures and treatments designed to reduce the signs of aging:
Breast lift
Facelift
Arm lift
BOTOX®
Facial fillers
There are many more. To find out if a plastic surgery procedure can address your areas of dissatisfaction and produce the outcome you want, you must meet with an experienced plastic surgeon.
To schedule a free plastic surgery consultation in Dallas, Texas, please contact the Cosmetic Surgical Center now.
Dr. Vasdev Rai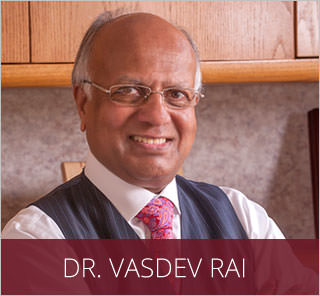 Dr. Vasdev Rai has performed more than 25,000 cosmetic surgeries over his more than 30 years in practice as a Dallas plastic surgeon. He is a board-certified plastic surgeon who was first certified by the American Board of Plastic Surgery in 1983. Learn More...
Dr. Surjit Rai
Dr. Surjit Rai was born and raised in Plano, Texas. Being the son of a plastic surgeon, Dr. Rai had the unique opportunity to see first-hand the impact a plastic surgeon can have. He knew at a young age that he would dedicate his life and academic career towards the goal of becoming a plastic surgeon. Learn More...