Busting Some Plastic Surgery Myths: Part 1
Published on May 3, 2009 by Dr. Rai (drrai.net)
Cosmetic surgery is plastic surgery done for cosmetic reasons. Since it has become so popular over recent years, many myths have emerged that need to be dealt with periodically.
1. Only a plastic surgeon can legally do plastic surgery
There are no regulations that restrict what type of medical practitioner may do plastic surgery. That is why it is so important to choose your cosmetic surgeon carefully, after checking into his or her training and experience. For best results and maximum safety choose only a cosmetic surgeon who is certified by the American Board of Plastic Surgery. Professional memberships are also top priority – membership in organizations like the American Society of Plastic Surgeons (ASPS) keeps a doctor in touch with new ideas, techniques, and technology, and in touch with his peers.
2. All board certifications are the same
Each medical specialty has its own certification board, and in fact any group of medical professionals can form its own such board. They all differ. The over-arching organization is the American Board of Medical Specialties. In the case of plastic surgery, ASPS, founded in 1931, is the group designated by the Board of Medical Specialties to oversee plastic surgery credentialing. Their standards are rigorous, requiring both oral and written exams.
3. Silicone gel breast implants have not been proven safe
Silicone breast implants were restricted in 1992 by the FDA to reconstructive use only, and for 14 years were unavailable for cosmetic use. That was the result of a media panic, where numbers of women claimed that their silicone implants had caused cancer or various auto-immune diseases.
During the 14 years many medical research companies investigated the claims, supervised by the FDA, and found zero support for them. Sixty other countries continued using the silicone implants with no restrictions and no problems. While doing the testing and research, two companies developed silicone implants with even stronger shells and even more cohesive gel than had been previously used.
In 1996, the FDA approved their implants for cosmetic use for women aged 22 and over. Those are the implants available now for 12 years which give you a pleasing choice between two excellent types of implant: saline and silicone gel. Both are entirely safe for your breast enlargement procedure.
Dr. Rai's training and credentials are impeccable. He has appeared many times on radio and television programs and has served in various leadership roles at Medical City Dallas Hospital. You will be in safe and wise hands, regardless of what cosmetic procedure you choose to have.
To schedule a personal consultation please call or email cosmetic surgeon Dr. Rai today.
Dr. Vasdev Rai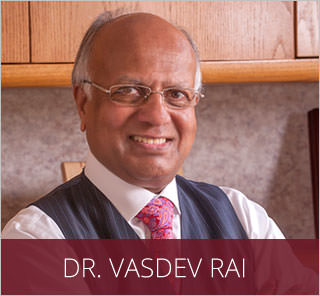 Dr. Vasdev Rai has performed more than 25,000 cosmetic surgeries over his more than 30 years in practice as a Dallas plastic surgeon. He is a board-certified plastic surgeon who was first certified by the American Board of Plastic Surgery in 1983. Learn More...
Dr. Surjit Rai
Dr. Surjit Rai was born and raised in Plano, Texas. Being the son of a plastic surgeon, Dr. Rai had the unique opportunity to see first-hand the impact a plastic surgeon can have. He knew at a young age that he would dedicate his life and academic career towards the goal of becoming a plastic surgeon. Learn More...