Cosmetic Surgery Mainstream Worldwide
Published on January 29, 2010 by Dr. Rai (drrai.net)
Recent news reports are saying that the public is giving cosmetic surgery a green light these days. The American Academy of Cosmetic Surgery (AACS) did a survey of people's attitudes to it and released the results yesterday.
They found that 71 percent of survey participants think that society has become less judgmental about it than it was five years ago. Of those, 62 percent even said that they felt easier about having cosmetic surgery because of this change in social attitudes.
"This is a confirmation of what many of us have felt for a long time – that cosmetic surgery has become mainstream," stated Dr. Mark Berman, President-Elect of AACS. "A variety of factors have contributed to the normalization of our industry, but the bottom line is that people are not afraid to talk openly about cosmetic surgery anymore."
Not surprisingly, the survey found that breast augmentation is the most accepted procedure, with facelifts and tummy tucks next. As for non-invasive procedures, laser hair removal is the best-accepted procedure, with BOTOX®Cosmetic coming in second.
South Africa
In South Africa, the recession has affected many people, but healthcare financing companies are doing well. One company, First Health Finance, has received over 5,000 applications for cosmetic surgery during the past 18 months, and again, tummy tucks and facelifts are among them.
It is clear to the company personnel that some of those applications come from people who are in financial trouble, but they still want a loan for plastic surgery procedures. Most applicants are female, aged in their thirties, and white.
"Since the recession, there has been no downturn in patient numbers," says one of South Africa's prominent plastic surgeons, Dr. Saul Braun. "In fact, there has been steady growth since October 2008 — the recession has had no influence whatsoever." Most of his patients are well-to-do and have not felt the recession's bite. But he also noted a "remarkable growth in plastic surgery among the black middle class."
In England
Actress Helen Mirren, aged 64, who played Her Majesty in the movie The Queen, gives cosmetic surgery her blessing. On a TV show this week, she said she does not plan to have any cosmetic procedures herself; but she says, "Go ahead … if it makes you feel good."
In answer to the question of why women are going for cosmetic surgery in such a big way, she said:
"I don't think there's outside pressure; I think it's the pressure you put on yourself when you look at yourself in the mirror in the morning. You go, 'I don't want to look at that face anymore,' and I understand that, absolutely. I think people should be allowed to do whatever they want to make themselves feel happy."
Have you have been wondering about cosmetic surgery for yourself? Perhaps you have read a few pages on this site or others and have questions. If you would like to meet Dr. Rai and learn more about how cosmetic surgery procedures could enhance your appearance, please contact our Dallas, Texas office today.
Dr. Vasdev Rai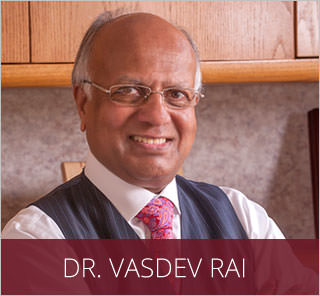 Dr. Vasdev Rai has performed more than 25,000 cosmetic surgeries over his more than 30 years in practice as a Dallas plastic surgeon. He is a board-certified plastic surgeon who was first certified by the American Board of Plastic Surgery in 1983. Learn More...
Dr. Surjit Rai
Dr. Surjit Rai was born and raised in Plano, Texas. Being the son of a plastic surgeon, Dr. Rai had the unique opportunity to see first-hand the impact a plastic surgeon can have. He knew at a young age that he would dedicate his life and academic career towards the goal of becoming a plastic surgeon. Learn More...