European Plastic Surgeon Trying to Squash News of Poor Plastic Surgery Result
Published on March 15, 2011 by Dr. Rai (drrai.net)
A Spanish plastic surgeon has taken Google to court over the search results that come up when his name is searched. Apparently, the surgeon is upset that the first page of search results on Google include the story of a lawsuit over poor breast surgery results he gave to a patient. The surgeon was accused of medical malpractice, but was never found liable in a court of law. Now he hopes to suppress the story, saying that the events are over 20 years old, and, because he was never found liable, they should be personal.
The Spanish Agency for Data Protection has ordered Google to delete links to the story from its search results. Google has refused, saying that the right to information overrides the "right to be forgotten," as European policymakers are describing the desire to have old information removed from the Internet. To resolve the conflict, the Spanish agency is considering sending the case to the European Court of Justice.
Currently, there's no similar push going on in the United States, but if there were, it seems like Google's in the right. Patients looking for information about a prospective surgeon have the right to find all the information out there, not know that a surgeon has the power to hide any unfavorable news reports. And if there may be one or two unfavorable things, to use that information in making their decision about a surgeon, and if there is one news story about a possible bad result over 20 years ago, that can be one factor, but should not be a deciding factor.
Before making a decision about your plastic surgeon, we encourage you to search "Dr. Vasdev Rai," and see the quality of information provided by him and about him. Dr. Vasdev Rai is a board-certified plastic surgeon with extensive training and experience. He has given great plastic surgery results to thousands of people in and around Dallas, Texas. You can see examples of his work in our Before and After Gallery.
There is no more important decision for ensuring quality of plastic surgery results than choosing the right surgeon. If you would like to talk to Dr. Rai in person, please call or email the Cosmetic Surgical Center in Dallas today.
Dr. Vasdev Rai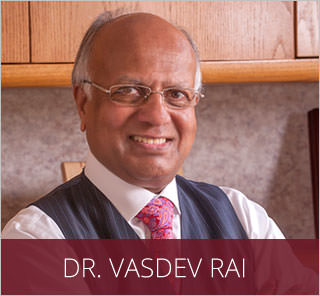 Dr. Vasdev Rai has performed more than 25,000 cosmetic surgeries over his more than 30 years in practice as a Dallas plastic surgeon. He is a board-certified plastic surgeon who was first certified by the American Board of Plastic Surgery in 1983. Learn More...
Dr. Surjit Rai
Dr. Surjit Rai was born and raised in Plano, Texas. Being the son of a plastic surgeon, Dr. Rai had the unique opportunity to see first-hand the impact a plastic surgeon can have. He knew at a young age that he would dedicate his life and academic career towards the goal of becoming a plastic surgeon. Learn More...