Get on the Blepharoplasty Bandwagon and See Better Now
Published on January 21, 2008 by Dr. Rai (drrai.net)
Each year in the United States, approximately 100,000 men and women elect to have blepharoplasty (eyelid surgery) performed to improve the look of their eyes and face. Droopy eyelids may not only make you look older than you are, they may actually impair your vision. Eyelid surgery can correct both of these problems and also remove the puffiness and bags under your eyes. What blepharoplasty will not fix: sagging eyebrows, dark circles under your eyes, and fine lines and wrinkles around your eyes. Sometimes patients opt to have other surgeries performed while their blepharoplasty is being done such as facelifts, browlifts, or skin resurfacing.
Being in good health is essential to successful plastic surgery. Also, patients must have realistic expectations of surgery results. Eyelid surgery will remove excess fat, muscle and skin from upper and lower eyelids, and the result is a more youthful, refreshed appearance. If you have any serious medical conditions, you will not be a candidate for plastic surgery for obvious reasons.
The Procedure
In upper eyelid surgery, your cosmetic surgeon first marks the individual lines and creases of the lids in order to keep the scars as invisible as possible along these natural folds. The incision is made, and excess fat, muscle, and loose skin are removed. Fine sutures are used to close the incisions, thereby minimizing the visibility of any scar.
In lower eyelid surgery, your surgeon makes the incision in an inconspicuous site along the lashline and smile creases of the lower lid. Excess fat, muscle, and skin are then trimmed away before the incision is closed with fine sutures. Under normal conditions, blepharoplasty can take from one to two hours.
Post-Surgery
Immediately after surgery, your surgeon may apply tiny sterile bandages. It is not crucial that the eyes be covered. However, an ointment to prevent dryness of the eye area may be used. A certain degree of swelling and bruising is normal. Cold compresses, as well as head elevation when lying down, will enhance healing and relieve discomfort. Your surgeon will prescribe medication for discomfort if necessary.
For a week and a half following blepharoplasty, you will clean the eye area (the eyes may feel sticky, dry, and itchy). Eyedrops may be recommended. Your surgeon will also list activities and environments to avoid in the weeks immediately following surgery. Permanent stitches will be removed in three to five days after surgery. Self-absorbing stitches will dissolve on their own.
Many patients claim that blepharoplasty not only improves their look but improves their self-confidence. If you suffer from droopy eyelids or your vision is affected by your eyelids, blepharoplasty just may be the solution you are looking for.
Dr. Vasdev Rai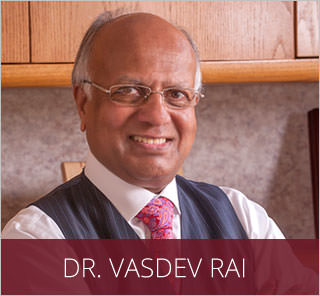 Dr. Vasdev Rai has performed more than 25,000 cosmetic surgeries over his more than 30 years in practice as a Dallas plastic surgeon. He is a board-certified plastic surgeon who was first certified by the American Board of Plastic Surgery in 1983. Learn More...
Dr. Surjit Rai
Dr. Surjit Rai was born and raised in Plano, Texas. Being the son of a plastic surgeon, Dr. Rai had the unique opportunity to see first-hand the impact a plastic surgeon can have. He knew at a young age that he would dedicate his life and academic career towards the goal of becoming a plastic surgeon. Learn More...