Photo Exhibition Depicts the Evolving Concept of Beauty Created by Plastic Surgery
Published on June 8, 2012 by Dr. Rai (drrai.net)
A new exhibit from photographer Phillip Toledano is a series of images of people who have undergone plastic surgery. These men and women have undergone combinations of different facial rejuvenation procedures, as well as breast augmentation and pec implants.
The results of the procedure can be described as "extreme." The results are obviously not supposed to look natural, and perhaps one of the main ideas of the exhibit is to challenge the very idea of beauty. Portraying subjects in something like Renaissance-style portraiture, Toledano's work has been called the "BOTOX Botticellis" by some media sources. With resolute facial expressions, the subjects pose in front of a black background, their gleaming bodies or heads often draped with fabric.
In recent years, plastic surgery has become part of the mainstream culture. Previously a cosmetic luxury of movie stars and other entertainers, plastic surgery is increasingly common. Total cosmetic surgical procedures performed in 2011 were more than one and a half million, according to the American Society of Plastic Surgeons.
The widespread presence of plastic surgery may indeed spur an evolution in society's view of beauty. Results achieved by plastic surgeon Dr. Vasdev Rai combine natural qualities with the stunning, ideal symmetry and proportions of fine art.
To learn more about plastic surgery in Dallas, Texas, please contact the Cosmetic Surgical Center to schedule a consultation with experienced plastic surgeon Dr. Vasdev Rai.
Dr. Vasdev Rai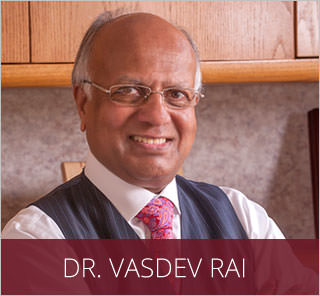 Dr. Vasdev Rai has performed more than 25,000 cosmetic surgeries over his more than 30 years in practice as a Dallas plastic surgeon. He is a board-certified plastic surgeon who was first certified by the American Board of Plastic Surgery in 1983. Learn More...
Dr. Surjit Rai
Dr. Surjit Rai was born and raised in Plano, Texas. Being the son of a plastic surgeon, Dr. Rai had the unique opportunity to see first-hand the impact a plastic surgeon can have. He knew at a young age that he would dedicate his life and academic career towards the goal of becoming a plastic surgeon. Learn More...