Why do I have Gynecomastia?
Published on January 1, 2014 by Dr. Rai (drrai.net)
In most cases, gynecomastia which develops in puberty or middle age is a medically harmless condition which is not caused by an underlying disease process. However, a small portion of men with gynecomastia do have an underlying health condition which needs to be addressed. Some medications can cause gynecomastia. Although physically harmless, gynecomastia can have a profound psychological and emotional effect. If you are unhappy with your male breasts Dr. Rai can help.
Male Breasts which Develop During Puberty
It is normal for boys to develop breast tissue, and even breast tenderness, around the age of 12 or 13, due to the crazy hormonal changes that are happening in puberty. This should subside over the next 18 to 24 months, but in some boys the breasts do not go away on their own. When male breast tissue persists, we refer to it as gynecomastia.
Gynecomastia in Older Men
Some men develop breasts in their 40's or 50's due to the hormonal changes which occur with aging. These hormonal changes often cause weight gain, which can also cause gynecomastia. This is not associated with any underlying disease process. Of course, we do encourage our patients to maintain a healthy weight as they age.
Other Causes of Gynecomastia
Many prescription medications can cause gynecomastia including anti-anxiety medications, some antidepressants, certain medications used to treat cancer, and many others. Some supplements and recreational drugs may cause the development of male breasts.
Liver problems, including cirrhosis hepatitis, can cause hormonal fluctuations leading to gynecomastia.
A small percentage of gynecomastia cases are caused by chromosomal abnormalities or hormonal imbalance that is not part of the aging process. In both there are other physical signs of the underlying problem.
If you have gynecomastia and you live in the DFW area and would like to learn more about your options, please email to schedule a comprehensive consultation with Dr. Vasdev Rai. Dr. Rai provides cosmetic surgery procedures to men living in Dallas, Fort Worth, and surrounding areas of Texas.
Dr. Vasdev Rai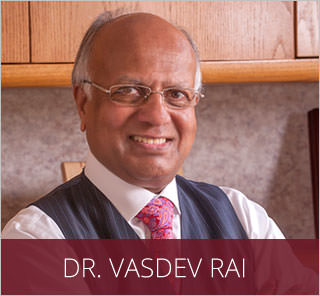 Dr. Vasdev Rai has performed more than 25,000 cosmetic surgeries over his more than 30 years in practice as a Dallas plastic surgeon. He is a board-certified plastic surgeon who was first certified by the American Board of Plastic Surgery in 1983. Learn More...
Dr. Surjit Rai
Dr. Surjit Rai was born and raised in Plano, Texas. Being the son of a plastic surgeon, Dr. Rai had the unique opportunity to see first-hand the impact a plastic surgeon can have. He knew at a young age that he would dedicate his life and academic career towards the goal of becoming a plastic surgeon. Learn More...