Ready for my Tummy Tuck A Real Patient Story Days 1 and 2
Published on September 20, 2012 by Dr. Rai (drrai.net)
This is a special guest blog from a patient who had a tummy tuck last year. If you are curious about what getting tummy tuck surgery is like, read this! Then contact us for a consultation.
Tomorrow is my surgery! I'm so excited, yet so nervous. Many probable outcomes are going through my head right now, mostly negative. I'm always the pessimist, so I'm not surprised! I have no doubt that I am in excellent hands, but I can't help but worry now that I have kids. Of course the kids are the ones who gave me this belly. They were well worth it, but it's time for me to get my body back!
Surgery day!! I didn't sleep a wink last night which I'm told is fine because I will get my best sleep during the surgery. I'm hungry too. I haven't eaten or had any liquids since midnight last night. I know once I fall asleep hunger pains will be gone. Well…this is it! Next time I write in this journal, I will have a flat tummy.
Day after surgery – I don't remember much from yesterday…thank goodness! I slept through the rest of the day. ***** said that Dr. Rai called to check on me yesterday evening. I thought that was nice. Today, I am "hunched" over and walking slowly. I need help getting up and going to the restroom, but am pleasantly surprised about my pain level. I only needed my pain medications yesterday and this morning. I just started substituting it for over-the-counter pain reliever, so that I'm not so tired. The regular pain reliever seems to be working fine. I do have some discomfort, but tolerable. Most of the pain is the tightness of my stomach muscles (I can't complain about firm stomach muscles!). I have 2 drains, which are supposed to be removed in 5-7 days. My nurse told me to empty them and measure the fluid 3 times a day. I have been doing this myself today, which is good because ****** has to return to his job in a few days. I can't wait until tomorrow for the revealing of my NEW IMPROVED TUMMY!! My first shower will be nice too. My hair is a mess!
Day 2 after surgery – I'm up early and ready for the unveiling! I'll finish my entry later, after my shower!
Day 2 cont… Oh my goodness! Bye bye gut! It's obvious that I am still swollen, but I cannot believe how much better it looks already. The scar is hip to hip, as I was told it would be, but it is impossible to predict how my scar will look in 3 months. I plan to take very good care of it. I'm not going to panic about it now. I have a lot of healing to do. At this point, I am grateful to be clean and have clean bandages on! My over-the-counter pain meds seem to be working great. I'm still moving pretty slow and remain bent over.
Dr. Vasdev Rai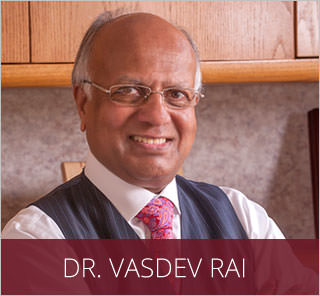 Dr. Vasdev Rai has performed more than 25,000 cosmetic surgeries over his more than 30 years in practice as a Dallas plastic surgeon. He is a board-certified plastic surgeon who was first certified by the American Board of Plastic Surgery in 1983. Learn More...
Dr. Surjit Rai
Dr. Surjit Rai was born and raised in Plano, Texas. Being the son of a plastic surgeon, Dr. Rai had the unique opportunity to see first-hand the impact a plastic surgeon can have. He knew at a young age that he would dedicate his life and academic career towards the goal of becoming a plastic surgeon. Learn More...