FDA Issues Statement on Possible Link between Breast Implants and Rare Cancer
Published on January 28, 2011 by Dr. Rai (drrai.net)
This month, the FDA issued a statement about a possible link between breast implants and a very rare form of cancer. It is important to note that this is not breast cancer, but a rare form of non-Hodgkin's lymphoma, so rare, in fact, that it was not discovered until 1985. The cancer is called anaplastic large cell lymphoma (ALCL), and it affects immune system cells, not breast tissue cells.
Currently, the FDA has identified about 60 confirmed cases, worldwide, of this cancer in women with breast implants. They are not exactly sure how many cases, because reports in the literature and by doctors do not always contain all identifying information, which means it is possible cases were double-counted. They have identified 34 unique cases of ALCL in women with breast implants in the United States and 17 cases in women without breast implants.
The FDA notes that the number of cases is so small that they cannot yet make a statement about a causal relationship between breast implants and ALCL. In fact, the condition is so rare that they may never be able to identify a causal relationship with any degree of certainty.
According to the case studies, the relative risk of ALCL for women with breast implants is about 20 times greater than for women without breast implants. However, because the risk is so small to begin with (about 3 in 100 million women are diagnosed each year in the US), the absolute risk remains very small. For more information, read the FDA's analysis of the scientific data.
The FDA recommends that you pay attention to any changes in your breast implants, especially:
Pain
Lumps
Swelling
Asymmetry
These and similar symptoms have been associated with every diagnosed case to date. The FDA does not recommend that you have your breast implants removed as a preventative measure.
Dr. Vasdev Rai notes that according to the recommendations, routine care, including follow-ups with your health care provider and breast self-exams should be sufficient to identify this cancer in its relatively early stages.
If you have concerns about your breast implants, we will be happy to talk to you about your concerns and review follow-up care procedures. Please call or email the Cosmetic Surgical Center in Dallas, Texas today for more information.
Dr. Vasdev Rai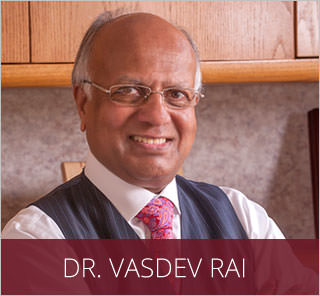 Dr. Vasdev Rai has performed more than 25,000 cosmetic surgeries over his more than 30 years in practice as a Dallas plastic surgeon. He is a board-certified plastic surgeon who was first certified by the American Board of Plastic Surgery in 1983. Learn More...
Dr. Surjit Rai
Dr. Surjit Rai was born and raised in Plano, Texas. Being the son of a plastic surgeon, Dr. Rai had the unique opportunity to see first-hand the impact a plastic surgeon can have. He knew at a young age that he would dedicate his life and academic career towards the goal of becoming a plastic surgeon. Learn More...