Study Finds a Third of Rhinoplasty Patients Have BDD
Published on August 29, 2011 by Dr. Rai (drrai.net)
According to a study in this month's Plastic and Reconstructive Surgery Journal, about a third of rhinoplasty candidates show symptoms of body dysmorphic disorder (BDD). BDD is a psychological disorder that prevents people from seeing themselves as they are. Instead, they see a distorted version of themselves, one that has often significant deformities. BDD is a problem for plastic surgery patients, because if you suffer from it, you will never actually be happy with the results of your plastic surgery, no matter how good the result actually is.
The study looked at two hundred twenty six patients seeking rhinoplasty. It gave them questionnaires that included demographic characteristics, visual analogue scales for nasal shape, and three specialized sets of questions designed to identify the degree of BDD. The results showed 33% of rhinoplasty patients showed at least moderate BDD, and that certain aesthetic goals, psychiatric history, and seeking a revision rhinoplasty were all significantly correlated with BDD, though, surprisingly, psychiatric history had the lowest rate of correlation. In addition, the questionnaire showed that BDD was associated with significant reductions in quality of life.
During your consultation, you may notice that it seems like your plastic surgeon is interviewing you as much as you are interviewing him. This may be the case, and it's not a cause for alarm, but one for celebration. A quality plastic surgeon is always trying to ensure that patients will benefit from the procedure they are considering. Sometimes this means ensuring that you will get good results, and other times it means ensuring that you will be able to appreciate the results you get. If your plastic surgeon perceives you may be suffering from BDD, he may decide you are not a good patient, though he may not tell you why. If you have been turned down by a number of plastic surgeons, perhaps it is time to seek another opinion, this time from a mental health professional.
If you are considering rhinoplasty in Dallas for a legitimate aesthetic concern about your nose shape, Dr. Vasdev Rai can help. Please contact him today to schedule a consultation.
Dr. Vasdev Rai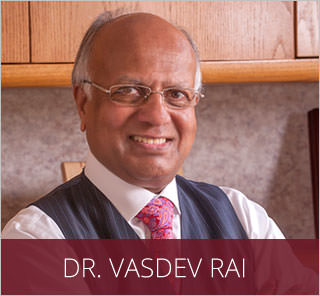 Dr. Vasdev Rai has performed more than 25,000 cosmetic surgeries over his more than 30 years in practice as a Dallas plastic surgeon. He is a board-certified plastic surgeon who was first certified by the American Board of Plastic Surgery in 1983. Learn More...
Dr. Surjit Rai
Dr. Surjit Rai was born and raised in Plano, Texas. Being the son of a plastic surgeon, Dr. Rai had the unique opportunity to see first-hand the impact a plastic surgeon can have. He knew at a young age that he would dedicate his life and academic career towards the goal of becoming a plastic surgeon. Learn More...