He truly cares for his patients
Published on July 24, 2020 by Dr. Rai (drrai.net)
I don't even know where to start. There are so many good things to say about Dr. Surjit Rai. I would recommend him to anyone. I live 6 hours away and it is definitely worth the drive. Dr. Surjit Rai talked to me for almost an hour on my initial consultation and answered all the questions that I had. Dr. Surjit Rai makes you feel as if you are his only patient and he has more kindness and compassion than I have ever experienced from a doctor in my life. He truly cares for his patients. After my surgery anytime I had any questions or concerns he would get back to me quickly. He even took time out of a holiday weekend to call in an antibiotic for me. I'm so happy with my results after my explant and lift. I feel like my life is starting to finally get back to normal and feel so much better with my implants out. Dr. Rai isn't just an amazing surgeon but he's also an amazing human being and I'm truly blessed to have found him. I can't thank him enough for his kindness and everything he did for me. I can't forget his amazing staff either. Each and every one of them is just as kind and compassionate as Dr. Rai is. Everyone always has a smile on their face and they all make you feel so welcome.
Dr. Vasdev Rai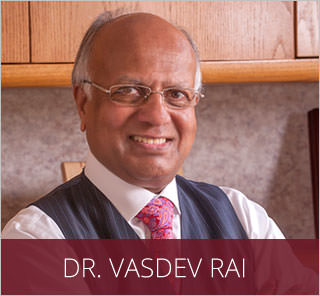 Dr. Vasdev Rai has performed more than 25,000 cosmetic surgeries over his more than 30 years in practice as a Dallas plastic surgeon. He is a board-certified plastic surgeon who was first certified by the American Board of Plastic Surgery in 1983. Learn More...
Dr. Surjit Rai
Dr. Surjit Rai was born and raised in Plano, Texas. Being the son of a plastic surgeon, Dr. Rai had the unique opportunity to see first-hand the impact a plastic surgeon can have. He knew at a young age that he would dedicate his life and academic career towards the goal of becoming a plastic surgeon. Learn More...