My results are phenomenal
Published on November 6, 2015 by Dr. Rai (drrai.net)
I came to see Dr. Rai and his staff because he was highly recommended by a close friend. From the moment that I first visited his office and spoke to him about my concerns, I knew I was in the right place. Dr. Rai took lots of time throughout the procedure, pre op and post op to ensure that my questions were answered and I knew everything that I needed to know. Dr. Rai and his staff educated and stressed the follow up care and were always available to help me with any questions or concerns. I felt extremely comfortable and safe knowing I would be taken care of very well. Dr. Rai called me personally every day to check on me and came by my hotel room to check on my healing process.
My results are phenomenal and the quality of care I received was astonishing. The physical effects of giving birth to two children have been erased. There are some aspects about your body that you yourself can improve, but others that need help enhancing by the right doctor. Dr. Rai is an extremely talented doctor and truly skilled with his craft. He is honest and straight forward with his approach so as to provide realistic results and prevent false hopes.
I highly recommend Dr. Rai to anyone who wants a kind, warm and gifted surgeon. His staff is phenomenal. I always felt welcomed and when I would call with questions they showed the utmost patience and professionalism. My experience at Cosmetic Surgical Center has been wonderful from day one. Dr. Rai and his staff are the 'BEST OF THE BEST!'
Dr. Vasdev Rai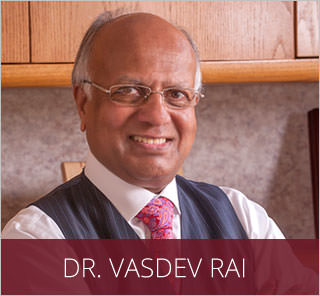 Dr. Vasdev Rai has performed more than 25,000 cosmetic surgeries over his more than 30 years in practice as a Dallas plastic surgeon. He is a board-certified plastic surgeon who was first certified by the American Board of Plastic Surgery in 1983. Learn More...
Dr. Surjit Rai
Dr. Surjit Rai was born and raised in Plano, Texas. Being the son of a plastic surgeon, Dr. Rai had the unique opportunity to see first-hand the impact a plastic surgeon can have. He knew at a young age that he would dedicate his life and academic career towards the goal of becoming a plastic surgeon. Learn More...