Thank you for holding my hand
Published on August 6, 2019 by Dr. Rai (drrai.net)
Greetings Dr. Rai (and my firend):
You know you are my "favorite" plastic sugeon (okay…so you have always been my "only" plastic surgeon) but i felt compelled to write a quick note telling you how "fantastic" you are and how truly blessed I am that out paths crossed so many years ago. You have always had my best interest at heart and taken good care of me.
Through all of the procedures and consultations we have shared together, you have always been patient, caring, informative, professional, and immaculate in answerting my many questions. Your surgical skills are superb and your "keen eye" for beauty (especially in keeping everything looking natural) and ability to see the finsihed product is amazing.
You remember, prior to my last procedure, how i feared the forehead scar…now i ask "what forehead scar?" ecause there is abosultely no indication of an incision. I call that "amazing" but then again i have Dr. Rai on my side.
Thank you for holding my hand, listening to my rambling, predicting what i am searching for, and always, "getting it right"!
Your favorite client always,
Dr. Vasdev Rai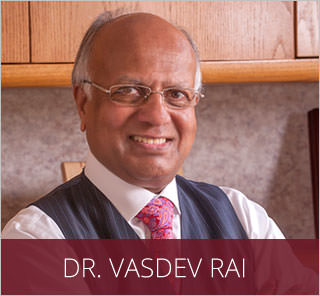 Dr. Vasdev Rai has performed more than 25,000 cosmetic surgeries over his more than 30 years in practice as a Dallas plastic surgeon. He is a board-certified plastic surgeon who was first certified by the American Board of Plastic Surgery in 1983. Learn More...
Dr. Surjit Rai
Dr. Surjit Rai was born and raised in Plano, Texas. Being the son of a plastic surgeon, Dr. Rai had the unique opportunity to see first-hand the impact a plastic surgeon can have. He knew at a young age that he would dedicate his life and academic career towards the goal of becoming a plastic surgeon. Learn More...