Wish all doctors were as amazing as Dr. Surjit Rai!
Published on October 7, 2020 by Dr. Rai (drrai.net)
Dr. Surjit Rai is hands down the best doctor I've ever had in my life! My left implant had ruptured so I chose to have a complete explant and after much research chose Dr. Surjit Rai as my surgeon. From the moment I contacted the office via email, scheduled a consultation and met with Dr. Rai I was blown away at the genuine kindness exuding from everyone in the office! Christian is amazing at her job and made me feel so welcomed, and important, as well as putting my mind at ease! Every nurse I worked with (I had three total) was so sweet, gentle and kind. I felt like a rockstar when I walked in for my final post-op appointment. Everyone could tell how AMAZING I felt and expressed their happiness for me. I had been suffering from BII for approximately five years and after just three weeks since my surgery 9/8/2020, I feel 100% better. I am absolutely blown away at how great I feel. The surgery recovery was hard – I won't candy coat that, but Dr. Rai made me feel so comfortable, checked on me daily for the first week and my body did the rest. I can't say enough good about Dr. Rai and his entire team! Hands down best doctors office I've ever worked with! Wish all doctors were as amazing as Dr. Surjit Rai!
Dr. Vasdev Rai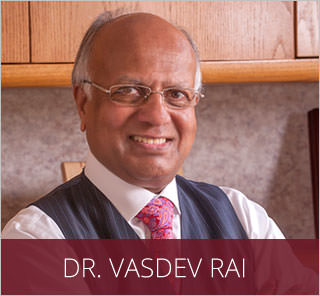 Dr. Vasdev Rai has performed more than 25,000 cosmetic surgeries over his more than 30 years in practice as a Dallas plastic surgeon. He is a board-certified plastic surgeon who was first certified by the American Board of Plastic Surgery in 1983. Learn More...
Dr. Surjit Rai
Dr. Surjit Rai was born and raised in Plano, Texas. Being the son of a plastic surgeon, Dr. Rai had the unique opportunity to see first-hand the impact a plastic surgeon can have. He knew at a young age that he would dedicate his life and academic career towards the goal of becoming a plastic surgeon. Learn More...