New California Cosmetic Surgery Law
Published on December 31, 2009 by Dr. Rai (drrai.net)
On Friday, January 1, 2010, California will have a new cosmetic surgery law called the Donda West Law. It has been working its way through the California House and Senate for about a year. It is named after Kanje West's mother, who died after her cosmetic surgery in 2007.
Kanye West is a rapper and actor. His mother had pre-existing cardiac problems that were evidently not made known to her Beverly Hills cosmetic surgeon, who went ahead with a breast reduction, liposuction, and a tummy tuck in November 2007. Those procedures took eight hours and then she was sent home for recovery. However, the next day she was found in respiratory distress and was pronounced dead at a medical center that evening.
Pre-Existing Cardiac Condition
Those three procedures were major surgery, especially when done together for a woman aged 58. It appears from news reports that she was advised to recover at another facility where she would receive monitoring and proper care, but declined and instead went home. During the following day, she was in pain and having breathing difficulty but was walking around. She was left unattended near the end of the day and later found on her bed unresponsive.
After doing an autopsy, the coroner concluded that her breathing trouble "may have triggered the cardiac event" that caused her death and that she died from some pre-existing coronary artery disease and "multiple post-operative factors following surgery".
Written Clearance Now Required Before Plastic Surgery
The new law will require that doctors do a physical exam within 30 days of any cosmetic surgery and sign off on a written clearance that the surgery will be safe. This law is designed to make sure that people do have a complete physical before any cosmetic surgery, because that could have prevented West's death.
However, all reputable cosmetic surgeons already do a complete physical before they go forward with any cosmetic surgery. This law will make no difference to their surgery practice.
Dr. Rai offers a free consultation to all his new patients, where he listens to their goals and what they would like to have done, and evaluates whether it would be appropriate. A full physical is then done in a separate visit if he decides that cosmetic surgery is a possibility.
If you are interested in plastic surgery, whether major or minor, the first step would be to contact us for a consultation with Dr. Rai. We look forward to meeting with you and you can be very sure you will be in responsible and safe hands at our facility.
Dr. Vasdev Rai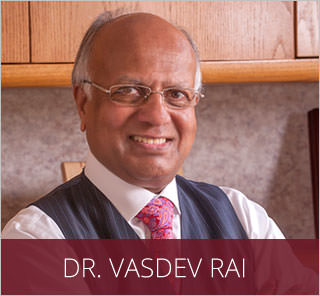 Dr. Vasdev Rai has performed more than 25,000 cosmetic surgeries over his more than 30 years in practice as a Dallas plastic surgeon. He is a board-certified plastic surgeon who was first certified by the American Board of Plastic Surgery in 1983. Learn More...
Dr. Surjit Rai
Dr. Surjit Rai was born and raised in Plano, Texas. Being the son of a plastic surgeon, Dr. Rai had the unique opportunity to see first-hand the impact a plastic surgeon can have. He knew at a young age that he would dedicate his life and academic career towards the goal of becoming a plastic surgeon. Learn More...