Cosmetic Surgery or Not?
Published on June 21, 2010 by Dr. Rai (drrai.net)
Joan Collins is a British television actress who has won various awards and had a long career. She started at the age of 18 and became famous when she starred in the soap opera Dynasty during the 1980s. She is now 77.
Collins is in the news today for making an unbelievable claim. She says she has not had any cosmetic surgery. Photos of her show hardly any wrinkles or sagging – no under-eye bags, no turkey neck, no wrinkled eyelids or forehead lines, no nasolabial folds or smoker's lines. She claims her good looks are the result of her lifestyle and genes:
"I spend a lot of time keeping my face out of the sun and taking care of my skin and wearing make-up. The secret is discipline, certainly, and portion control, though I do have indulgences. I was also given a very good set of genes, so I decided I was going to do the best I could to make the best of them for as long as I could."
It is certainly wise to protect your skin from sun damage and to avoid over-eating. And yes, skillfully-applied makeup can help you look younger. A skillful photographer will also use artful lighting to hide wrinkles.
Good genes do help, and it is true that some skin types develop fine lines at a younger age than others. Also, the amount and distribution of fat in the cheeks can lead to more sagging, or earlier sagging, and prominent cheekbones can help preserve a youthful look.
But these things alone do not prevent the signs of aging. Collins wears her (youthfully shiny and brown) hair forward over her forehead and in front of her ears, which suggests an attempt to hide facelift scars.
A facelift rejuvenates the lower two-thirds of the face by lifting it and anchoring it in a tighter position. Incisions are made in the hairline on each side of the face, running down in front of the ears and curving back up behind them. Natural creases and the hair camouflage the resulting scars. A facelift smoothes out the throat, the nasolabial folds (laugh lines), and general cheek sagging.
Eye makeup and false eyelashes can help keep the eyes looking young, but they do nothing for eyelid sagging. Blepharoplasty is a cosmetic surgery procedure that removes excess fat and skin from the eyelids and gives the eyes a more alert and youthful look. Scars are very thin and they are well-hidden in the eyes' natural creases or inside the lower eyelid.
BOTOX® Cosmetic smoothes out forehead lines and crow's feet. Collins claims she has had no BOTOX® Cosmetic treatments, as the idea frightens her. She dislikes needles and thinks that BOTOX® is a "poison". The proteins that BOTOX® is derived from do come from a bacteria that can cause botulism if they are ingested in large amounts. But nobody eats BOTOX® — it is injected in a tiny amount to a specific muscle and never enters the digestive system.
Although Collins denies having any cosmetic surgery, there is no reason these days to hide it. It is widely accepted as a good way to preserve your best youthful features, and in this slumping economy, many are using it to look better in job interviews.
If you would like to know more about any of the plastic surgery procedures we offer, please contact us for a free consultation. Dr. Rai is always happy to answer questions and suggest which procedures might be best for you.
Dr. Vasdev Rai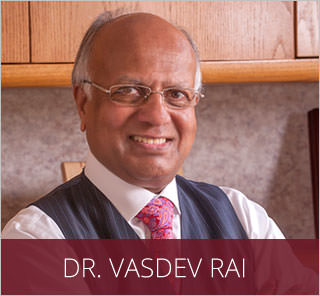 Dr. Vasdev Rai has performed more than 25,000 cosmetic surgeries over his more than 30 years in practice as a Dallas plastic surgeon. He is a board-certified plastic surgeon who was first certified by the American Board of Plastic Surgery in 1983. Learn More...
Dr. Surjit Rai
Dr. Surjit Rai was born and raised in Plano, Texas. Being the son of a plastic surgeon, Dr. Rai had the unique opportunity to see first-hand the impact a plastic surgeon can have. He knew at a young age that he would dedicate his life and academic career towards the goal of becoming a plastic surgeon. Learn More...