Meet Dr. Vasdev Rai - Plastic Surgeon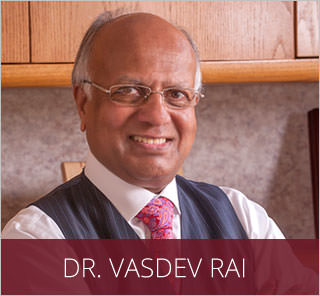 Dr. Vasdev Rai has performed more than 25,000 cosmetic surgeries over his more than 30 years in practice as a Dallas plastic surgeon. He is a board-certified plastic surgeon who was first certified by the American Board of Plastic Surgery in 1983. Dr. Rai is consistently rated one of the top 10 plastic surgeons in Dallas, Texas by toptendallas.com
He specializes in cosmetic and plastic surgery for the
And Dr. Rai welcomes male patients.
Dr. Rai is Chief of Plastic Surgery at Medical City Dallas Hospital. His extensive education, advanced training with new technologies, professional memberships and honors, and his community involvement make him one of the most admired and sought-after plastic surgeons in Texas.
Call (888) 915-1948 today or contact the Cosmetic Surgical Center to schedule your appointment with experienced cosmetic surgeon Dr. Vasdev Rai.
Dr. Rai's Training and Credentials
Dr. Rai received his training in plastic surgery at New York Hospital of Cornell University Medical Center, which is one of the premier universities for training plastic surgeons. Dr. Rai has been board certified by the American Board of Plastic Surgery since 1983. He continues to advance his education and training with new techniques and methods, and he is often asked to write and lecture about plastic surgery.
Dr. Rai's Memberships and Honors
American Society of Plastic Surgeons
Texas Medical Association
Texas Society of Plastic Surgeons
Dallas Society of Plastic Surgeons
Dallas County Medical Society
Dr. Rai's Awards
Best Medical Graduate Award
Voted one of Top Plastic Surgeons in Dallas by D-Magazine survey
Dr. Rai has fulfilled many leadership roles on the medical staff of Medical City Dallas Hospital. He has served multiple terms as Chief of Section of Plastic Surgery as well as participated in various committees on quality assurance and patient safety.
Dr. Rai on the Web
Dr. Rai is active in online plastic surgery communities. Follow him on the web and see what he has to say.
Dr. Rai in the Media
Dr. Rai is a frequent guest in local media and has made appearances on national television as a well-regarded plastic surgery expert.
Television Appearances
ABC Daybreak July 2008
ABC mid-day news 1986
Plano/Richardson Cable Network 1990
Dallas Health Watch KTXA 1992
KTVT night news on new face lift procedure 1992
NBC night news 1994
Radio Guest
KLIF as guest of Art Snell and Karen Bloom, multiple appearances as plastic surgery expert.
FM-102 as guest of Jim White on plastic surgery
Print Media
D-magazine
Dallas Morning News
Ultra
Allure
Cosmopolitan
Elle
Town and Country
Interview with Dr. Rai
What makes your practice unique?
Love for my profession and empathy for my patients is what makes my practice unique.
What is the most important thing for your patients to know about you?
We will never recommend a procedure that is not right for you. Unfortunately, there is abundant misinformation about plastic surgery in the media, internet, and magazines, and we meet patients who believe in it. It is our job to educate them and dispel misinformed beliefs. Sometimes, patients hold on to their false beliefs and go somewhere else to pursue their own design for themselves, and unfortunately, they end up suffering harm. When they discover that they have made a mistake and come back to us for correction, sometimes the damage is irreversible and cannot be undone.
I want my potential patients to trust me and to not second-guess my recommendations, since they are based on their best interest, not mine. I will always guide you right. For me, my patients always come first.
What is your favorite thing about being a plastic surgeon?
Even when seeking the same operation, no two patients are alike in their outlook, thoughts, goals, and desires. As a plastic surgeon I feel like a designer of beautiful bodies, the result of which is a happy and confident human being. I simply dispense dreams. Call me a dream merchant.
Dr. Rai and the Dallas Community
Dr. Rai is a well-regarded and frequent speaker on plastic surgery. He has made appearances on TV and been interviewed for print media, and he has spoken at many civic, social, hospital, and school functions about plastic surgery.
For more than 20 years, Dr. Rai has been an alternate delegate of the Dallas County Medical Society and the Texas Medical Association. He has served multiple terms as the Chief of Plastic Surgery at Medical City Dallas, a complex that houses medical specialists from every field who help patients heal and move forward with their lives.
Dr. Rai is proud to consider himself a practitioner of the healing arts. He is focused on improving his patients' overall well-being and sense of confidence in themselves.