How will My Stomach Look after a Tummy Tuck in Dallas?
Published on December 26, 2013 by Dr. Rai (drrai.net)
A tummy tuck removes excess skin and tightens the abdominal muscles. Excess fat may also be remove. The result is a flat belly, and narrower waistline. For many patients, stretch marks are reduced or removed. A tummy tuck is not a replacement for diet and exercise. The results of a tummy tuck can be very dramatic, giving you your old self back. Dallas plastic surgeon Dr. Vasdev Rai can help you decide if a full tummy tuck or mini tummy tuck is right for you.
Beautiful Results after Weight Loss
A tummy tuck is a very rewarding procedure for both men and women who have achieved massive weight loss. There is nothing more discouraging than putting in all the hard work to lose weight, only to discover that you still cannot wear the clothes you love because you are left with sagging skin. A tummy tuck finishes off your look, giving you a flat belly and defined waistline.
Getting Your Pre-Baby Body Back
If you are considering a tummy tuck after pregnancy, you will be very pleased with your new look. Or, maybe we should say, "your old look." Pregnancy can stretch the abdominal muscles to the point that exercise cannot restore them to their previous firmness, leaving you with weak muscles and a sagging belly. Tummy tuck will restore your figure, and reduce or remove stretch marks.
If you are considering a tummy tuck in Dallas and want to know how your stomach will look, please contact Dallas plastic surgeon Dr. Vasdev Rai to schedule a comprehensive consultation. After discussing your cosmetic goals, Dr. Rai can help you decide if a tummy tuck or another procedure will give you the results that you desire.
Dr. Vasdev Rai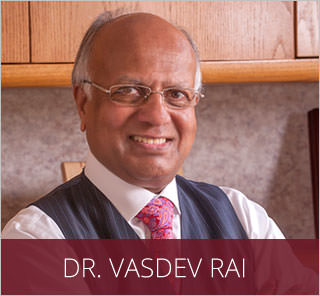 Dr. Vasdev Rai has performed more than 25,000 cosmetic surgeries over his more than 30 years in practice as a Dallas plastic surgeon. He is a board-certified plastic surgeon who was first certified by the American Board of Plastic Surgery in 1983. Learn More...
Dr. Surjit Rai
Dr. Surjit Rai was born and raised in Plano, Texas. Being the son of a plastic surgeon, Dr. Rai had the unique opportunity to see first-hand the impact a plastic surgeon can have. He knew at a young age that he would dedicate his life and academic career towards the goal of becoming a plastic surgeon. Learn More...