BMI and Body Contouring Complications
Published on September 11, 2008 by Dr. Rai (drrai.net)
Cosmetic surgery continues to be popular, and increasing numbers of people are wanting to have body contouring surgeries, such as tummy tucks, buttock lifts, thigh lifts, and upper arm lifts. the American Society for Aesthetic Plastic Surgery (ASAPS) collects annual numbers for each procedure done nationwide, and found that in 2007, 368,313 body contouring procedures were performed.
In the July/August issue of the Aesthetic Surgery Journal, published by the ASAPS, there is a report about a study of obesity and surgical outcomes. Researchers followed 129 patients who had a body contouring procedure between 1993 and 2002.
The patients were grouped according to their Body Mass Index (BMI):
Ideal weight — BMI less than 25
Overweight — BMI 25 to 30
Obese — BMI 31 to 35
Morbidly obese — BMI 36 to 40
Severely morbidly obese — BMI 41 and up
Surgical complications were recorded as being either:
Minor — such as post-op wound infection and pockets of fluid or blood at the wound site (seromas and hematomas respectively)
Major — such as problems requiring hospital re-admission, prolonged hospital stays, problems requiring follow-up procedures, and death
Results Not Surprising
Researchers found a statistically significant connection between increased BMI and increased complications (that is, poorer outcomes).
Minor complications increased from 3.3 percent in the ideal weight group to 46.9 percent in the severely morbidly obese group
Major complications increased from 6.6 percent to 43.7 percent in those groups
No surgical procedure is a good option for everybody. There is always a screening process done by each cosmetic surgeon to filter out poor candidates. It would seem from these results that a person's BMI is a clear parameter to use in that screening.
Obese people tend to have many secondary conditions — that is, health problems arising from their obesity. Common examples are high blood pressure, diabetes, heart disease, poor healing ability, and sleep apnea (which itself gives rise to secondary conditions because of the reduced oxygen taken into the body).
Two conclusions would seem obvious:
Surgeons need to be strict in their candidate screening, despite the pressure of so many people wanting cosmetic surgery
More such research would be a good idea, to establish stronger medical evidence. This would help surgeons with patient screening and yield better outcomes overall
Dr. Rai has over 20 years of cosmetic surgery experience and places a high priority on thorough patient screening. You can read more here about his credentials, professional memberships, and work with the media and his community. You will be in safe and highly competent hands with Dr. Rai.
Dr. Vasdev Rai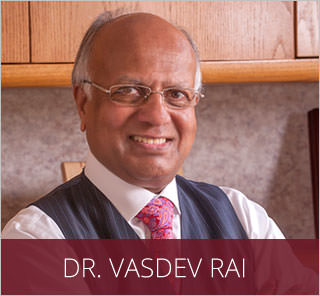 Dr. Vasdev Rai has performed more than 25,000 cosmetic surgeries over his more than 30 years in practice as a Dallas plastic surgeon. He is a board-certified plastic surgeon who was first certified by the American Board of Plastic Surgery in 1983. Learn More...
Dr. Surjit Rai
Dr. Surjit Rai was born and raised in Plano, Texas. Being the son of a plastic surgeon, Dr. Rai had the unique opportunity to see first-hand the impact a plastic surgeon can have. He knew at a young age that he would dedicate his life and academic career towards the goal of becoming a plastic surgeon. Learn More...