Neck Appearance Doesn't Have to be Corrected With Neck Surgery
Published on July 9, 2009 by Dr. Rai (drrai.net)
For many women, years of applying expensive facial creams, using sunscreen, and wearing hats are all for nought when they see the appearance of their neck. The neck has some of the thinnest skin on the body and dries out faster than many other areas, so it can also sag, develop wrinkles, and look older more quickly than other parts of the body.
If you are unsatisfied with the appearance of your neck and you live in the Dallas or Fort Worth, Texas area, Dr. Rai can help you improve it without invasive neck surgery.
Whether you are suffering from neck bands, sagging skin, or wrinkles, there are a few different options available.
Some of the most common neck procedures include:
• Liposuction – Liposuction with local anesthetic can remove the excess fat that develops right below the chin. It makes many women feel self conscious, but this fairly quick and easy solution will give you a more defined jawline and leave you smiling.
• BOTOX® – BOTOX® can be used to correct the bands that appear on your lower neck. The BOTOX® relaxes the muscles that cause the bands, helping the neck skin look smoother and younger.
No matter what issues you may have with your face or neck, you can probably turn back the clock and gain the appearance you want. Please contact our plastic surgery office in Dallas, Texas today to schedule your initial consultation.
Dr. Vasdev Rai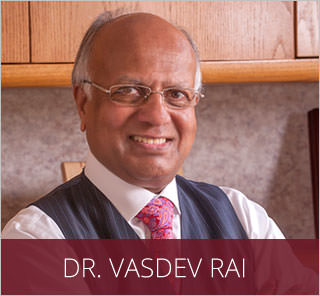 Dr. Vasdev Rai has performed more than 25,000 cosmetic surgeries over his more than 30 years in practice as a Dallas plastic surgeon. He is a board-certified plastic surgeon who was first certified by the American Board of Plastic Surgery in 1983. Learn More...
Dr. Surjit Rai
Dr. Surjit Rai was born and raised in Plano, Texas. Being the son of a plastic surgeon, Dr. Rai had the unique opportunity to see first-hand the impact a plastic surgeon can have. He knew at a young age that he would dedicate his life and academic career towards the goal of becoming a plastic surgeon. Learn More...