Choose a Better Bra to Improve Lifetime of Breast Implant Surgery
Published on March 20, 2008 by Dr. Rai (drrai.net)
Whether you are trying to put off the need for a breast lift as long as possible or trying to preserve the good results of your breast augmentation operation, the best thing you can do for your breasts is to wear a good, supportive bra. According to anecdotal evidence by one of the biggest bra-fitting outfits in New York City, eighty percent of women wear the wrong size of bra. To make sure your bra will give you full support, here are some tips.
Cup Selection
The cups of your bra should completely contain your breasts, smoothly, without bulging or deforming the breast. Molded cups are best, and pay attention to the seams, in which the threads play the same role as cables on a bridge. The tie between the two cups should lie flat against the chest. If it does not, you need a larger cup size.
Underwires
Underwires add support to the breast from below, but if poorly fitted they can be painful and detrimental. If your cups are the right size, the underwire should be below the breast, resting directly against the rib cage.
Strapped In
The back strap should rest against your back at or below the shoulder blades. If your bra rides up or is too loose, the bra is too big. If the bra feels too tight, try a larger cup first, then try a larger bra. The over-the-shoulder straps bear most of the weight, so make sure you have good ones. For larger women, it is especially important to make sure your straps are wide enough to distribute the weight. Also, make sure your straps are properly adjusted. Straps that drift are too loose, but if they cut into your shoulders they are too tight.
Many women believe that they do not need to wear a bra following breast augmentation surgery. Although breast implants (especially silicone implants) are more resistant to gravity than natural breast tissue, not wearing a bra can dramatically reduce the lifetime of the procedure.
To learn more about how to maintain the health of your breasts both before and after breast surgery, contact the Cosmetic Surgical Center in Dallas, Texas to set up a consultation with Dr. Vasdev Rai.
Dr. Vasdev Rai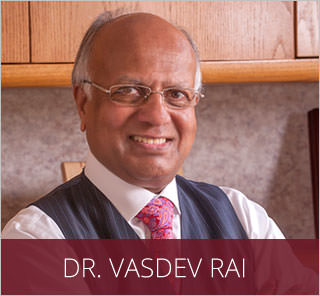 Dr. Vasdev Rai has performed more than 25,000 cosmetic surgeries over his more than 30 years in practice as a Dallas plastic surgeon. He is a board-certified plastic surgeon who was first certified by the American Board of Plastic Surgery in 1983. Learn More...
Dr. Surjit Rai
Dr. Surjit Rai was born and raised in Plano, Texas. Being the son of a plastic surgeon, Dr. Rai had the unique opportunity to see first-hand the impact a plastic surgeon can have. He knew at a young age that he would dedicate his life and academic career towards the goal of becoming a plastic surgeon. Learn More...