Fat Injections for Breast Augmentation?
Published on October 24, 2008 by Dr. Rai (drrai.net)
At the upcoming annual meeting of the American Society of Plastic Surgeons (ASPS) in Chicago, a group of surgeons are planning a presentation about using fat injections (also called fat grafts) for breast augmentation. They were chosen earlier as a task force to study fat injections for this use.
Fat injections have been used for years as part of breast reconstruction after a mastectomy. But they are new to cosmetic use and there is not a lot of research on their effectiveness or safety.
The ASPS task force is reported to be stopping short of recommending fat grafts for augmentation, instead suggesting that they be tried. They are known to be effective in softening the appearance of implants but not as breast augmentation by themselves. There is also some concern about them interfering with detection of breast cancer.
ASPS Task Force Findings
After studying 110 published studies, the plastic surgeons have concluded that:
Fat grafts can be used for reconstruction of breasts, hands, and face, and for cosmetic breast augmentation, but there are no standardized techniques
For lack of sufficient data, no specific recommendations can be made about their use in breast augmentation
There is so far no increased risk of breast cancer connected with fat grafts
Data suggests fat grafts may interfere with breast exams but not with mammograms
More studies are needed
Two Trials Recruiting Volunteers
Two clinical trials are now seeking women volunteers for fat graft breast enlargement.
One is seeking just 20 women aged 20 to 50 to have liposuction for obtaining fat to use in fat grafts for the breasts.
The other is planning to use fat grafts in conjunction with the Brava system of breast enhancement, which is a method of stimulating the natural breast tissue to grow. It uses special domes worn over the breasts for a few hours each day
At the Cosmetic Surgical Center we offer more established breast augmentation procedures which have been thoroughly tested and proved. Well-planned implants will give you a predictable result based on your goals, for far less cost than augmentation through fat injections.
To learn more about breast implants, please see our pages on Breast Augmentation Surgery Options. If you would like a consultation with Dr. Rai, please contact our office today.
Dr. Vasdev Rai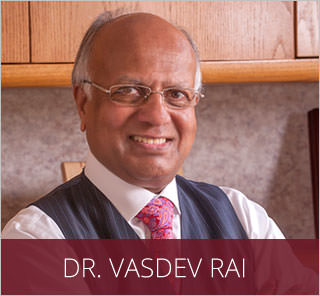 Dr. Vasdev Rai has performed more than 25,000 cosmetic surgeries over his more than 30 years in practice as a Dallas plastic surgeon. He is a board-certified plastic surgeon who was first certified by the American Board of Plastic Surgery in 1983. Learn More...
Dr. Surjit Rai
Dr. Surjit Rai was born and raised in Plano, Texas. Being the son of a plastic surgeon, Dr. Rai had the unique opportunity to see first-hand the impact a plastic surgeon can have. He knew at a young age that he would dedicate his life and academic career towards the goal of becoming a plastic surgeon. Learn More...