Breast Reduction Surgery in Dallas
Published on October 29, 2013 by Dr. Rai (drrai.net)
Overly large, heavy, or pendulous breasts can present a number of aesthetic issues. When you have excessively large breasts, you may have difficulties finding clothing that fits, or look and feel heavier than you actually are. Worse still, heavy breasts are difficult to support, often resulting in bra straps cutting into shoulders or even chronic back and neck aches. When breasts are so large that they cause pain or interfere with your physical abilities, it may be time to consider breast reduction surgery.
Dallas plastic surgeon Dr. Vasdev Rai has decades of experience helping women with cumbersome breasts restore both contour and comfort. He would be happy to assess your needs and discuss your options during your breast reduction consultation.
If you live in the Dallas/Fort Worth area of Texas and would like to learn more about breast reduction surgery, please contact The Cosmetic Surgical Center today.
Potential Medical Problems
Breast reduction surgery addresses potential medical problems that can result from large and heavy breasts. Because this procedure has recognized medical benefits, many insurance companies will cover at least a portion of the cost.
If cost is a deterrent to your gaining comfort, our helpful staff would be happy to discuss your financing options during your Dallas breast reduction surgery consultation.
To learn if breast reduction surgery can help restore comfort and balance to your body, please contact our board-certified Dallas plastic surgeon today.
Dr. Vasdev Rai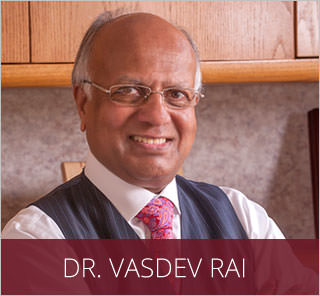 Dr. Vasdev Rai has performed more than 25,000 cosmetic surgeries over his more than 30 years in practice as a Dallas plastic surgeon. He is a board-certified plastic surgeon who was first certified by the American Board of Plastic Surgery in 1983. Learn More...
Dr. Surjit Rai
Dr. Surjit Rai was born and raised in Plano, Texas. Being the son of a plastic surgeon, Dr. Rai had the unique opportunity to see first-hand the impact a plastic surgeon can have. He knew at a young age that he would dedicate his life and academic career towards the goal of becoming a plastic surgeon. Learn More...