Get Relief Through Breast Reduction Surgery
Published on January 3, 2008 by Dr. Rai (drrai.net)
Breast reductions are preformed to reduce the weight of very heavy breasts making it easier to enjoy a more active lifestyle. Women often find that this surgery relieves back, neck, and shoulder pain. The primary benefit of the operation is functionality, but most often a breast lift will enhance your appearance and improve your body image.
The incisions for breast reduction are not unlike those used for a "keyhole-anchor" breast lift technique. The procedure involves an anchor-shaped incision that circles the areola and extends downward to follow the natural curve of the breast. Excess glandular tissue, fat, and skin are removed. The nipple and areola are then moved to their new position. The skin from both sides of the breast is brought down and around the areola giving shaping to the new contour of the breast.
In most cases, the nipples remain attached to their blood vessels and nerves. However, if the breasts are very large or hang loosely, the nipples and areolas may have to be completely removed and grafted into a higher position. Unfortunately, this usually results in a loss of sensation in the nipple and surrounding tissue.
Another reduction method known as the periareolar, or "donut shape," may also be effective if there is not a large excess of skin. This method has the advantage of hiding scars; however, it tends to flatten the breast shape to some degree. In general, the more skin that is cut, the more it is possible to shape the breast. Therefore, there is a trade-off between the extent of the scars and the extent of the shaping of the breast.
If you are interested in breast surgery and live in the Dallas area, please contact Dr. Vasdev Rai at the Cosmetic Surgical Center today to schedule your initial consultation.
Dr. Vasdev Rai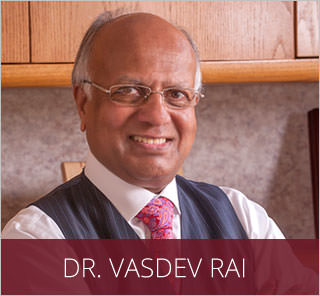 Dr. Vasdev Rai has performed more than 25,000 cosmetic surgeries over his more than 30 years in practice as a Dallas plastic surgeon. He is a board-certified plastic surgeon who was first certified by the American Board of Plastic Surgery in 1983. Learn More...
Dr. Surjit Rai
Dr. Surjit Rai was born and raised in Plano, Texas. Being the son of a plastic surgeon, Dr. Rai had the unique opportunity to see first-hand the impact a plastic surgeon can have. He knew at a young age that he would dedicate his life and academic career towards the goal of becoming a plastic surgeon. Learn More...