Breast Augmentation for Breast Asymmetry in Dallas
Published on October 28, 2013 by Dr. Rai (drrai.net)
Breast asymmetry is one of the most common issues addressed through breast augmentation surgery. If your breasts are different sizes, board-certified Dallas plastic surgeon Dr. Vasdev Rai would be happy to meet with you to discuss your options and help you find the most effective way to achieve symmetry and balance in your upper body.
If you live in or around Dallas, Texas and are looking for the most effective way to address breast asymmetry, please contact The Cosmetic Surgical Center today to schedule a consultation with Dr. Rai.
Addressing Asymmetry
Each woman is entirely unique, requiring that breast augmentation for asymmetry be personalized for every patient. Dr. Rai will perform a thorough evaluation of your entire frame to determine what proportions will most naturally suit you.
Based on your stated desires and Dr. Rai's findings, producing symmetry may require little more than different sized breast implants. However, in some instances, producing ideal symmetry requires combining augmentation with other breast surgeries such as reduction or lift. What is best for you will be dependent on your specific needs and discussed in full during your breast augmentation consultation.
For more information about producing symmetry through breast augmentation, please contact our board-certified Dallas, Texas plastic surgeon today.
Dr. Vasdev Rai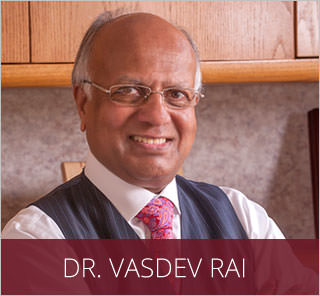 Dr. Vasdev Rai has performed more than 25,000 cosmetic surgeries over his more than 30 years in practice as a Dallas plastic surgeon. He is a board-certified plastic surgeon who was first certified by the American Board of Plastic Surgery in 1983. Learn More...
Dr. Surjit Rai
Dr. Surjit Rai was born and raised in Plano, Texas. Being the son of a plastic surgeon, Dr. Rai had the unique opportunity to see first-hand the impact a plastic surgeon can have. He knew at a young age that he would dedicate his life and academic career towards the goal of becoming a plastic surgeon. Learn More...