How do I Choose My Surgeon for Breast Augmentation?
Published on March 29, 2014 by Dr. Rai (drrai.net)
It is not uncommon for women to ask: How do I Choose My Surgeon for Breast Augmentation? Choosing your surgeon is the most important choice you will make about your breast augmentation. When you choose the right surgeon, you will receive the advice and guidance you need to make the decisions that will help you reach your personal goals when it comes to implant type, incision placement, and other breast enlargement options. With so many cosmetic surgeons to choose from, you need to know what to look for.
Narrowing Down Your Options
Begin by looking for a plastic surgeon who is certified by The American Board of Plastic Surgery.
Your plastic surgeon should have privileges to perform breast surgery in a reputable local hospital.
Look for a surgeon who is experienced, reputable, and honest.
The Interview
When you have found a plastic surgeon or a list of surgeons who meet the basic criteria above, it is time to schedule a consultation. During your consultation do not be afraid to ask questions. Your surgeon should be open and honest, willing to answer your questions in a way that you can understand and that makes you feel comfortable.
Your surgeon should show you a portfolio of their work. Experienced and reputable cosmetic surgeons are proud of their results and want prospective patients to know what to realistically expect from breast augmentation.
Most important is to go with your gut. Listen to your inner instincts to determine if you can trust the plastic surgeon you are visiting.
If you are considering a breast augmentation in the Dallas/Fort Worth area, and would like to learn more, please contact the Cosmetic Surgical Center to schedule a comprehensive consultation with Dr. Vasdev Rai. Your initial consultation is your opportunity to ask questions, learn more about your breast enhancement options, and get to know us so that you can make an informed decision.
Dr. Vasdev Rai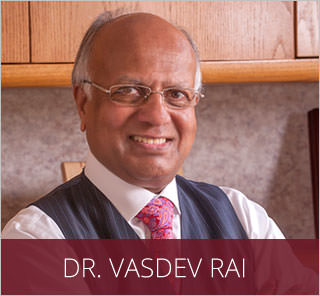 Dr. Vasdev Rai has performed more than 25,000 cosmetic surgeries over his more than 30 years in practice as a Dallas plastic surgeon. He is a board-certified plastic surgeon who was first certified by the American Board of Plastic Surgery in 1983. Learn More...
Dr. Surjit Rai
Dr. Surjit Rai was born and raised in Plano, Texas. Being the son of a plastic surgeon, Dr. Rai had the unique opportunity to see first-hand the impact a plastic surgeon can have. He knew at a young age that he would dedicate his life and academic career towards the goal of becoming a plastic surgeon. Learn More...