Saline vs. Silicone Gel Breast Implants
Published on March 25, 2009 by Dr. Rai (drrai.net)
The statistics compiled for 2008 by the American Society for Aesthetic Plastic Surgery (ASAPS) show breast augmentation as the most popular cosmetic surgery. This is the first time liposuction has not been at the top of the list.
It seems that American women have a lot of confidence now in both saline and silicone gel implants. They both give excellent results and the most important factor in this choice is the patient's knowledge of the advantages and disadvantages of each type of implant.
During the 14 years that the FDA restricted use of silicone gel implants to reconstruction only, barring them from cosmetic use, women had only one choice of implant and that was saline. Now they have two choices and that has boosted the popularity of breast augmentation nationwide.
Comparison of Saline and Silicone Gel Implants
Ruptures in both types of implant are unlikely. However, a rupture in a saline implant is immediately noticeable because the saline solution leaks out quickly and is absorbed by the body easily. A rupture in a silicone gel implant may not be noticed unless you have an examination by your cosmetic surgeon or an MRI. That is because the silicone gel stays where it is, in one piece, and does not run out like saline solution.
Saline implants more often show ripples. If there is adequate breast tissue covering them, the ripples will be less visible than in a thin woman with less breast tissue.
Saline implants are inserted empty and then filled as desired whereas silicone implants come pre-filled in a range of sizes. This means that incisions for silicone implants must be longer than for saline implants.
Many people consider silicone implants to look and feel more natural than saline implants. Saline implants seem more like a water balloon.
The choice between saline and silicone gel implants is a personal one and depends on your lifestyle, your body build, your cosmetic desires and goals, and on your cosmetic surgeons recommendations for you. Whichever type you choose, you will be safe and if you make an educated choice you will almost certainly be pleased with your new appearance.
At the Cosmetic Surgical Center we offer both saline and silicone gel implants and we do place a high value on patient education. There are more choices to be made than just which type of implant. Please see Breast Implant Frequently Asked Questions for more details.
If you would like to schedule a free consultation about possibly having a breast augmentation surgery, please contact our cosmetic surgery office today.
Dr. Vasdev Rai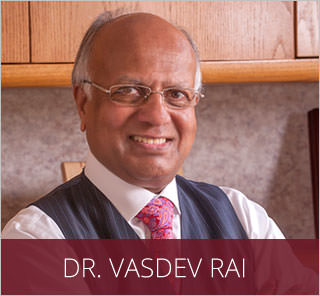 Dr. Vasdev Rai has performed more than 25,000 cosmetic surgeries over his more than 30 years in practice as a Dallas plastic surgeon. He is a board-certified plastic surgeon who was first certified by the American Board of Plastic Surgery in 1983. Learn More...
Dr. Surjit Rai
Dr. Surjit Rai was born and raised in Plano, Texas. Being the son of a plastic surgeon, Dr. Rai had the unique opportunity to see first-hand the impact a plastic surgeon can have. He knew at a young age that he would dedicate his life and academic career towards the goal of becoming a plastic surgeon. Learn More...