Cost Considerations for Cosmetic Surgery
Published on February 24, 2009 by Dr. Rai (drrai.net)
Health insurance does not typically cover any cosmetic procedure unless there's also a convincing health reason for the procedure. An example of that would be a rhinoplasty done both for recontouring of the nose and improvement of breathing such as correcting a deviated septum.
There are some ways of reducing your potential surgery costs.
Choose a fully-qualified cosmetic surgeon who has experience in your particular procedure. If you choose an inexperienced or poorly-qualified surgeon you risk having a poor outcome which would require further surgery for correction.
Follow your chosen surgeon's instructions to the letter. All pre- and post-surgery instructions are given for good reasons – because they will enhance your cosmetic outcome and shorten your recovery period. Violating them is just asking for problems. Examples would be taking aspirin right before your surgery – aspirin thins the blood and makes bleeding more likely – or removing dressings too soon, which could invite infection.
When inquiring about your potential cost, make sure to get a final total. There may be a basic cost plus several extra costs such as charges for medications, anesthesia or follow-up visits.
Look into what is offered by third party financing companies. Dr. Rai works with CareCredit and you can read more on our Cost page. For those who qualify there are low- and no-interest loans, easy terms and choices of repayment period.
Considering cost in isolation is not very realistic. When you buy something like a refrigerator, would you decide based on cost alone? Surely you would consider the size and design of the refrigerator and its various benefits and features in relation to its cost. If you really want a good fridge, the cost is worth it.
So with a cosmetic surgery – if you really feel it will enhance your appearance and hence your self-confidence and quality of life, its cost is worth it. The first step is to become more informed about it so that you will know what you are paying for.
To schedule a free consultation with Dr. Rai about any procedure which appeals to you – BOTOX® treatments, breast enlargement, or a Tummy Tuck, for example – please call or email our cosmetic surgery office today.
Dr. Vasdev Rai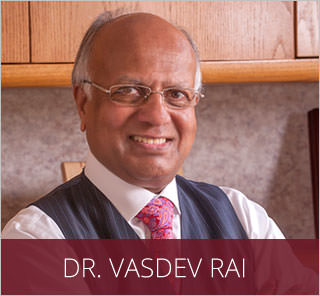 Dr. Vasdev Rai has performed more than 25,000 cosmetic surgeries over his more than 30 years in practice as a Dallas plastic surgeon. He is a board-certified plastic surgeon who was first certified by the American Board of Plastic Surgery in 1983. Learn More...
Dr. Surjit Rai
Dr. Surjit Rai was born and raised in Plano, Texas. Being the son of a plastic surgeon, Dr. Rai had the unique opportunity to see first-hand the impact a plastic surgeon can have. He knew at a young age that he would dedicate his life and academic career towards the goal of becoming a plastic surgeon. Learn More...