Facial Transplant Done at Brigham and Women's Hospital
Published on April 15, 2009 by Dr. Rai (drrai.net)
Earlier this month, a plastic surgery team at Brigham and Woman's Hospital (BWH) in Boston performed a partial face transplant. They replaced the entire midface:
Nose
Hard palate
Upper lip
Skin
Muscles for facial expression
The team included seven plastic surgeons and an Ear, Nose and Throat surgeon, as well as nurses and anesthesiologists. They spent 17 hours without any break on this surgery and were watched by many medical residents.
This is just the second facial transplant ever done in the U.S. The patient has chosen to be anonymous and will not be given any interviews. It is not known what caused the need for a facial transplant.
What made it all possible was the generous donor family. The New England Organ Bank talked with the donor family and obtained their consent. Face donations require family consent. Other donation types require only that the donor be registered, and this information can be on that person's driving license.
History of Organ Transplants
BWH has been a leader in transplant surgeries and has acquired a worldwide reputation. They started in 1954 with a kidney transplant, donated by a man to his brother. That was performed by one Dr. Joseph Murray (and his team), who in 1990 received the Nobel Prize for medicine.
Now kidney transplants are often performed. BWH did 100 kidney transplants in 2008. Since 1984 they have performed 560 heart transplants.
Organ transplants are major plastic surgery done for health or survival reasons. Cosmetic surgery is plastic surgery done for cosmetic reasons. At the Cosmetic Surgical Center, Dr. Rai offers a wide variety of cosmetic surgeries, on the face, breast and total body, for both men and women. Some are non-invasive, such as the popular facial fillers and BOTOX®.
To learn more about how cosmetic surgery could give you a more youthful appearance, please call or email our cosmetic surgery office today for a free personal consultation.
Dr. Vasdev Rai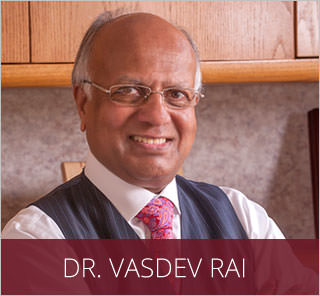 Dr. Vasdev Rai has performed more than 25,000 cosmetic surgeries over his more than 30 years in practice as a Dallas plastic surgeon. He is a board-certified plastic surgeon who was first certified by the American Board of Plastic Surgery in 1983. Learn More...
Dr. Surjit Rai
Dr. Surjit Rai was born and raised in Plano, Texas. Being the son of a plastic surgeon, Dr. Rai had the unique opportunity to see first-hand the impact a plastic surgeon can have. He knew at a young age that he would dedicate his life and academic career towards the goal of becoming a plastic surgeon. Learn More...