Is There a Difference Between Cosmetic and Reconstructive Plastic Surgery?
Published on December 3, 2007 by Dr. Rai (drrai.net)
Plastic Surgery, also referred to as cosmetic surgery, deals with the repair, reconstruction, or replacement of physical defects of form or function involving the skin, musculoskeletal system, cranio-maxillofacial structures, hand, extremities, breast and trunk, and external genitalia. It uses aesthetic surgical principles to improve undesirable physical attributes of otherwise normal structures as well as reconstructing defects in someone's appearance.
Special knowledge and skill in the design and surgery of grafts, flaps, free tissue transfer and re-plantation is necessary. Competence in the management of complex wounds, the use of implantable materials, and in tumor surgery is required. Plastic Surgery has been prominent in the development of innovative techniques such as microvascular and cranio-maxillofacial surgery, liposuction, and tissue transfer. The foundation of surgical anatomy, physiology, pathology, and other basic sciences is fundamental to this specialty.
Competency in plastic surgery implies a special combination of basic knowledge, surgical judgment, technical expertise, ethics, and interpersonal skills in order to achieve satisfactory patient relationships and problem resolution.
There are basically two parts to plastic surgery:
Cosmetic surgery is performed to reshape normal structures of the body in order to improve the patient's appearance.
Some of the most common cosmetic surgery procedures are:
Breast enlargement
Rhinoplasty (nose jobs)
Face lifts
Eyelid lifts
Liposuction
Reconstructive surgery is performed on abnormal structures of the body, caused by congenital defects, developmental abnormalities, trauma, infection, tumors or disease. It is generally performed to improve function, but may also be done to approximate a normal appearance.
Some of the most common reconstructive surgery procedures are:
Breast reduction for hyperplasia
Burn care
Craniofacial surgery
Correction of congenital anomalies such as cleft palate, cleft lip
Excision of tumors
Sometimes there is overlap with certain procedures. For instance, there can be reconstructive rhinoplasty to correct a nasal deformity, but there can also be cosmetic rhinoplasty, simply altering the shape of a normal nose.
For answers to all of your cosmetic surgery questions, please contact us online today or call us to set up your personal consultation with Dr. Rai at the Cosmetic Surgical Center, serving patients in Dallas, Texas and surrounding areas.
Dr. Vasdev Rai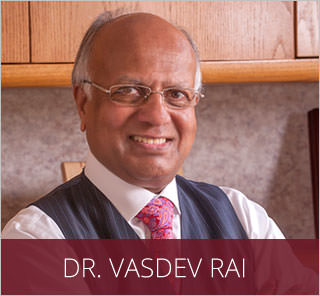 Dr. Vasdev Rai has performed more than 25,000 cosmetic surgeries over his more than 30 years in practice as a Dallas plastic surgeon. He is a board-certified plastic surgeon who was first certified by the American Board of Plastic Surgery in 1983. Learn More...
Dr. Surjit Rai
Dr. Surjit Rai was born and raised in Plano, Texas. Being the son of a plastic surgeon, Dr. Rai had the unique opportunity to see first-hand the impact a plastic surgeon can have. He knew at a young age that he would dedicate his life and academic career towards the goal of becoming a plastic surgeon. Learn More...