Some Cosmetic Report Cards on Celebrities
Published on April 24, 2009 by Dr. Rai (drrai.net)
Dr. Agarwal, a cosmetic surgeon at Castlefield Clinic in Manchester, England has published some assessments of celebrity faces. He is looking at their skin condition in relation to their age and making a professional guess as to what procedures they have had or could benefit from.
Demi Moore (age 46) – her skin needs a course of chemical peels to brighten it up and smooth out the emerging fine lines. It appears that she is having Botox® treatments for the forehead, which is making it look smoother than the lower facial areas.
Nicole Kidman (age 41) – started with an excellent complexion and has looked after her skin well. Her lips seem to have had facial filler treatments or lip implants, which have been a bit overdone, creating an unnatural look. A preventive lower face lift would help her keep her good looks.
Sarah Jessica Parker (age 43) – has kept her natural elegance and aged well. She seems to be having Botox® injections around the eyes and forehead. A series of chemical peels would help with the under-eye areas and with the papery and slightly pitted skin.
Jennifer Aniston (age 40) – has kept good facial muscle tone and has few lines. She could remove them and also give more glow to her complexion with some chemical peels.
Kim Katrall (age 52) – has arrived at the age when a lower face lift would help against the constant pull of gravity. Treating the slight jowls now would give her a tighter jawline that would last well. She appears to be having Botox® treatments for the forehead, which looks smoother than the rest of her face. A chemical peel would help with the lower facial lines.
Madonna (age 50) – has cared for her skin well and looks great for her age. A series of peels would give her skin a more renewed look. Her main problem is her hands which need plumping up with a dermal filler.
Kylie Minogue (age 40) – is aging very well. She is a declared fan of Botox® injections and has a smooth forehead. Perhaps radio wave treatment would take care of the lines beginning to appear at the corners of the eyes.If you would like to rejuvenate your face, the first step would be to contact cosmetic surgeon Dr. Rai for a free consultation. He would be happy to answer questions, make suggestions, and explain how various cosmetic surgery procedures could benefit you.
Dr. Vasdev Rai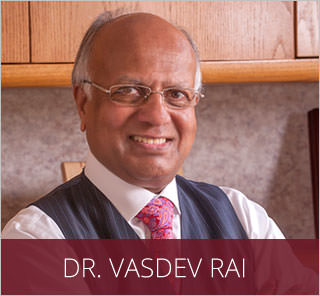 Dr. Vasdev Rai has performed more than 25,000 cosmetic surgeries over his more than 30 years in practice as a Dallas plastic surgeon. He is a board-certified plastic surgeon who was first certified by the American Board of Plastic Surgery in 1983. Learn More...
Dr. Surjit Rai
Dr. Surjit Rai was born and raised in Plano, Texas. Being the son of a plastic surgeon, Dr. Rai had the unique opportunity to see first-hand the impact a plastic surgeon can have. He knew at a young age that he would dedicate his life and academic career towards the goal of becoming a plastic surgeon. Learn More...