Surgical Adhesive Being Tested For Cosmetic Surgery
Published on December 10, 2007 by Dr. Rai (drrai.net)
CryoLife Inc., based in Atlanta, and San Mateo, Calif.-based BioForm Medical Inc. have announced that the first patient has been enrolled in a clinical study evaluating BioGlue Surgical Adhesive as a method of fixation in brow lifts.
BioForm recently received permission from an FDA Investigational Device Exemption (IDE) to begin enrollment in a feasibility study to evaluate the safety and effectiveness of BioGlue for tissue fixation in brow-lift procedures.
According to a PRNewswire report, BioForm CEO Steven L. Basta says the trial will be "the first for a surgical adhesive as a fixation methodology for browplasty" and that if the product proves safe and effective, "the use of BioGlue may represent an attractive and less invasive alternative for physicians and patients compared to traditional methods of fixation."
BioForm and CryoLife, a biomaterials, medical-device and tissue-processing company, entered into a licensing and distribution partnership in October 2006 for the development and marketing of the latter firm's BioGlue Surgical Adhesive. BioForm is responsible for all clinical trials, regulatory filings and sales and marketing of BioGlue for cosmetic and plastic surgery applications. CryoLife remains the exclusive manufacturer of the product.
If you are considering having plastic surgery done in the Dallas, Texas area, please contact Dr. Vasdev Rai at the Cosmetic Surgical Center today to schedule your initial consultation.
Dr. Vasdev Rai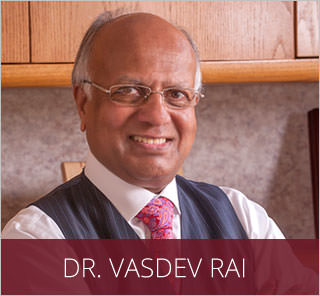 Dr. Vasdev Rai has performed more than 25,000 cosmetic surgeries over his more than 30 years in practice as a Dallas plastic surgeon. He is a board-certified plastic surgeon who was first certified by the American Board of Plastic Surgery in 1983. Learn More...
Dr. Surjit Rai
Dr. Surjit Rai was born and raised in Plano, Texas. Being the son of a plastic surgeon, Dr. Rai had the unique opportunity to see first-hand the impact a plastic surgeon can have. He knew at a young age that he would dedicate his life and academic career towards the goal of becoming a plastic surgeon. Learn More...