What is the Best Age For Cosmetic Surgery?
Published on August 6, 2009 by Dr. Rai (drrai.net)
Many potential plastic surgery patients come to our Dallas, Texas cosmetic surgery office asking when the best time is for them to have a certain procedure performed. The answer is – it depends. It depends on many factors, such as what the procedure is, how robust your general health is, and what your attitudes are to surgery in general. Here are some specific thoughts:
Skin Elasticity – when tissue is removed, as in liposuction where fatty tissue is removed, the skin needs to shrink over the new slimmed-down shape. If the skin is young it will have no problem doing that. If it is aging it has lost some elasticity and may retain a sagging look. For this reason, excess skin is removed in a tummy tuck so you will have a tight, youthful-looking abdomen.
Overall Health – Like any major surgery, cosmetic surgery can be a challenge to the body and your recovery period may last longer if your general health is less than optimum. But aging does not necessarily equate to poor health and Dr. Rai will assess your health before performing any surgery.
Mental Maturity – When you choose to have cosmetic surgery, you are also choosing to alter the way you look for a long period of time. This choice requires a lot of thought and consideration. Younger patients may tend to be impulsive and set their sights on a certain procedure without fully realizing how it will change their appearance. Dr. Rai always encourages new patients to learn about their upcoming surgery and to understand its consequences.
No matter what age you are or what procedure you are considering, the best thing you can do to become better educated about cosmetic surgery is to contact Dallas, Texas cosmetic surgeon, Dr. Vasdev Rai today for a free consultation.
Dr. Vasdev Rai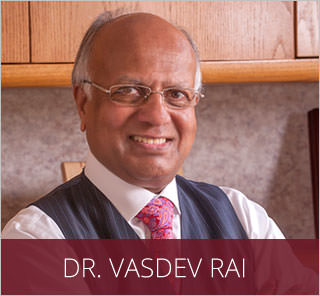 Dr. Vasdev Rai has performed more than 25,000 cosmetic surgeries over his more than 30 years in practice as a Dallas plastic surgeon. He is a board-certified plastic surgeon who was first certified by the American Board of Plastic Surgery in 1983. Learn More...
Dr. Surjit Rai
Dr. Surjit Rai was born and raised in Plano, Texas. Being the son of a plastic surgeon, Dr. Rai had the unique opportunity to see first-hand the impact a plastic surgeon can have. He knew at a young age that he would dedicate his life and academic career towards the goal of becoming a plastic surgeon. Learn More...