Second Facelift provides Effective Results
Published on March 14, 2013 by Dr. Rai (drrai.net)
Facelift patients who have a second facelift an average of 10 years later experience lasting results and a low complication rate from this second surgery, according to a report in this month's issue of Plastic and Reconstructive Surgery.
When performed by an experienced plastic surgeon, a secondary facelift can be safe and effective for an older patient, the researchers found.
The study looked at 60 patients who were having a second facelift. Mostly women and a few men, the patients were an average of 51 years old at the time of the first facelift, and an average of 60 years old for the second.
The study found a 5 percent complication rate for the secondary facelifts, which is about the same for first-time facelifts.
Ten of the patients had a third facelift an average of seven-and-a-half years later, which may mean the results of a second facelift probably last several years.
Whether you are considering a facelift for the first time or want to refresh the results of one you had previously, you can benefit from the skill of an experienced plastic surgeon. Board-certified plastic surgeon Dr. Vasdev Rai has many years experience achieving natural, restorative results, and he can find the most effective way to rejuvenate your facial appearance.
To learn more about your candidacy for a facelift in Dallas, Texas, please contact the Cosmetic Surgical Center to schedule a consultation with experienced plastic surgeon Dr. Vasdev Rai.
Dr. Vasdev Rai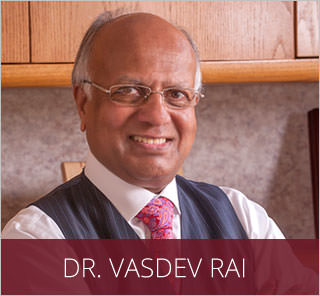 Dr. Vasdev Rai has performed more than 25,000 cosmetic surgeries over his more than 30 years in practice as a Dallas plastic surgeon. He is a board-certified plastic surgeon who was first certified by the American Board of Plastic Surgery in 1983. Learn More...
Dr. Surjit Rai
Dr. Surjit Rai was born and raised in Plano, Texas. Being the son of a plastic surgeon, Dr. Rai had the unique opportunity to see first-hand the impact a plastic surgeon can have. He knew at a young age that he would dedicate his life and academic career towards the goal of becoming a plastic surgeon. Learn More...