When a Facelift Is the Right Choice
Published on August 14, 2008 by Dr. Rai (drrai.net)
Cosmetic technology is constantly increasing, and some of the new innovations seem to take the world by storm, such as Botox® Cosmetic, facial fillers like Restylane® or Radiesse®, and laser treatments. You may think that the facelift has been replaced, like the whalebone corset replaced by Lycra undergarments.But you would be mistaken. Cosmetic treatments are one thing, but plastic surgery can achieve results that are longer-lasting and more significant than any of the treatments.Besides, advancements in technique and technology make modern facelifts as advanced as any "new hi-tech" procedure.
What a Facelift Treats
In performing a facelift, Dr. Vasdev Rai lifts and repositions the skin and musculature of the face.The constant draw of gravity is one of the key causes of aging and is responsible for a number of unpleasant effects.The face is no more immune to gravity than the breasts or buttocks.
The youthful beauty of the face depends on the proper location of subcutaneous fat deposits.Dark hollows under the eye can be caused by the downward movement of the fat of the cheek, and parentheses lines around the nose and mouth are made worse by the same downward movement.These are all treatable with a mid-facelift.As the fat and skin of the face sinks, jowls become more pronounced, and deep banding of the neck, i.e."turkey neck," develops.A facelift improves the appearance of jowls, while turkey neck and neck banding are treated with a necklift.
Unmatched Results
A facelift treats the effects of aging over a much larger area of the face than Botox® Cosmetic or fillers, and it provides treatment at a deeper level than any non-invasive cosmetic procedure.As a result, a facelift also provides results that last far longer than non-invasive treatments.While many non-invasive treatments give good results for about six months to a year, the results of a facelift can last ten years.
How to Choose
In this, as in every decision, evaluate what you want to achieve before you decide on a course of action.If you have an upcoming special event like a wedding or a class reunion and you're looking for a small cosmetic "boost," non-invasive treatments are an ideal choice.But if you want long-lasting correction of some of the serious changes caused by aging, nothing provides the same level of results as a facelift or other plastic surgery such as a blepharoplasty.
If you are considering your facial rejuvenation option, contact Dr. Vasdev Rai at the Cosmetic Surgical Center today to schedule a consultation.
Dr. Vasdev Rai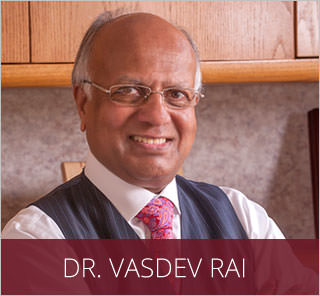 Dr. Vasdev Rai has performed more than 25,000 cosmetic surgeries over his more than 30 years in practice as a Dallas plastic surgeon. He is a board-certified plastic surgeon who was first certified by the American Board of Plastic Surgery in 1983. Learn More...
Dr. Surjit Rai
Dr. Surjit Rai was born and raised in Plano, Texas. Being the son of a plastic surgeon, Dr. Rai had the unique opportunity to see first-hand the impact a plastic surgeon can have. He knew at a young age that he would dedicate his life and academic career towards the goal of becoming a plastic surgeon. Learn More...